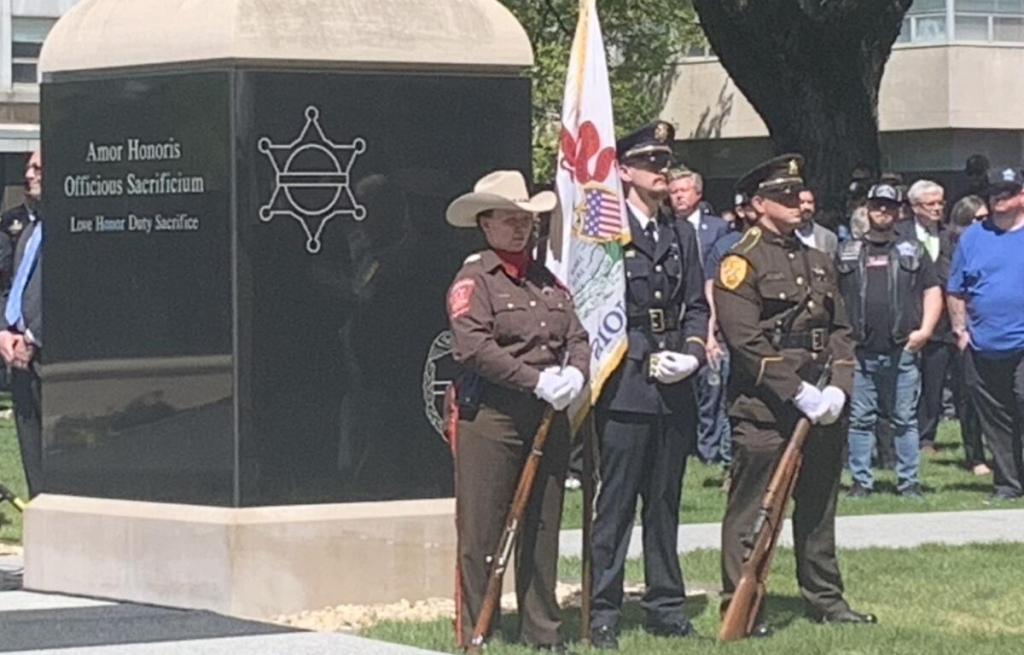 By Dave Dahl
SPRINGFIELD – A bright, pleasant morning greeted the annual Illinois police memorial ceremony on the west lawn of the Capitol. The first Thursday in May is the day for the annual event.
Honored Thursday were twelve law enforcers killed in the line of duty between fall 2021 and spring 2022, as well as five lawmen whose deaths from the 1920's, 1940's, and 1950's were discovered for the memorial.
"People will try to explain that things will get better with time," said Kathleen Ritmanic, whose sister was a Bradley, Ill., officer killed in the line of duty. "It is not time that heals. It is learning to deal with the loss of your loved one."
It's a club nobody wants to join.
Widow Amber Oberheim paraphrased a pastor's remarks from another police funeral; the police are not a thin blue line; they are a thick blue wall protecting us from evil.
Officer Nicholas Kozak, Forest Park PD
Officer James Svec, Chicago PD
K9 Officer Jeffrey Dela Cruz, U.S. Customs and Border Protection
Officer Jose Huerta, Chicago PD
Detective Joseph Tripoli, Chicago PD
Deputy Michael John Queeney, Will Co SO
Officer Brian Romel Shields, Aurora PD
Deputy Joseph Robert Tinoco, Cook Co SD
Sergeant Kenneth John Thurman, Sr, Aurora PD
Deputy Brian Norton, Ford Co SO
Officer Brian Lee Sember, Ottawa PD
Deputy Nicholas Donald Weist, Knox Co DO
Sergeant Claude Bowman, Cook Co HP
Sergeant Francis McGraw, Chicago PD
Officer Charles Hibsch, Chicago PD
Officer Dennis Collins, Chicago PD
Deputy John Vernon Donaldson, Sr, Ogle Co SO
Dave Dahl can be reached at [email protected]