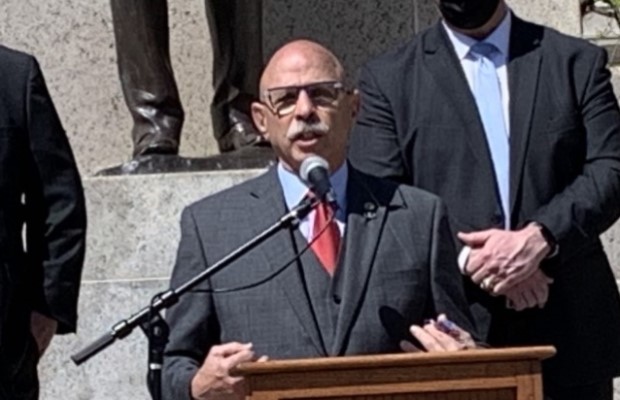 By Dave Dahl
SPRINGFIELD – Some statehouse Republicans – members of the "Illinois Freedom Caucus" – say Illinois public education offers little result, especially for all the money spent.
"When only 30 percent of the kids can read at grade level," said State Rep. Brad Halbrook (R-Shelbyville), "and barely 25 percent can do math at grade level, just how successful has all this spending on early childhood (education) really been?"
The Illinois State Board of Education says the Wirepoints report is misleading, with data cherry-picked from the state's poorest districts. But State Rep. Dan Caulkins (R-Decatur) said it's right there in black and white.
"Like any business," said Caulkins, "if there's no competition, you can charge whatever you want and provide a crappy product."
"Crappy"? Really?
"Look at the results. Look at the results," responded Caulkins. "Are we succeeding? Are we educating children in this state? Are our kids – the bright kids – staying here working?"
The news conference began with Halbrook reading a litany of promises from past governors – and the current one – to invest in preschool.
The Illinois State Board of Education issued the following statement in response:
For people who are interested in facts and in supporting Illinois' students and communities, it's important to understand that a school's proficiency rates strongly correlate to the income levels of the students and families they serve. This "report" singles out schools that serve some of the most underresourced families in the state.
These achievement gaps based on family income level are why Governor Pritzker has proposed to invest $300 million over the next four years to expand access to high-quality preschool programs to help close gaps in learning and development before students start kindergarten.
Illinois evaluates schools based on multiple measures of performance, including growth, student attendance, climate and culture surveys, and graduation rates. Illinois has among the most rigorous proficiency standards in the nation, and we are committed to providing every school the support and resources they need so that every student can meet these high expectations. Evaluating schools based on growth in addition to proficiency gives us a more holistic understanding of school quality because even if a student starts school below grade level due to living in poverty, a good school can still help that student achieve significant growth.
Dave Dahl can be reached at news@wjbc.com