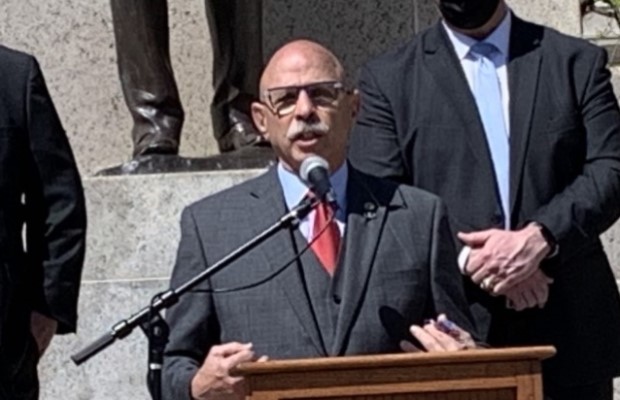 By Dave Dahl
SPRINGFIELD – State Rep. Dan Caulkins (pictured) (R-Decatur) is not happy about reports pointing to State Rep. Tony McCombie (R-Savanna) as the new leader of the Illinois House Republican caucus. McCombie herself Friday texted WJBC News, "I have the majority of votes."
Caulkins issued the following news release:
"The reports that one member of the House Republican caucus has secured enough votes to become the next leader are misleading and are nothing more than a deliberate attempt to create a desired outcome. The truth is the leadership situation is very much in flux.
"The reason the House Republicans are undergoing the process of selecting a new leader is because of glaring deficiencies in the previous leadership of our caucus. We are not going to advance as a caucus if we perpetuate the same policies and processes that have directly led to the expansion of the super majority Democrats have enjoyed for far too long.
"Our caucus needs new leadership and a new direction. The strong arming and media manipulation are the kind of tactics that have produced an apparent permanent minority caucus in the House. Many if not most of the incoming House Republican caucus members have agreed to an open process where everyone interested in running for Leader would have an opportunity to present their vision for the 103rd General Assembly and beyond.
"The old days of the selection process taking place before even one vote is cast are over. We need an open and transparent process and that is what a substantial number of elected Republican representatives are fighting to achieve."
The Republicans plan to elect their leader Tuesday, as the General Assembly begins its fall veto session. McCombie would be the first woman to lead a caucus of the House of Representatives and would succeed Jim Durkin, who announced the morning after Tuesday's election that he would not serve as leader of the 103rd General Assembly, which is sworn in Jan. 11.
Dave Dahl can be reached at News@WJBC.com.