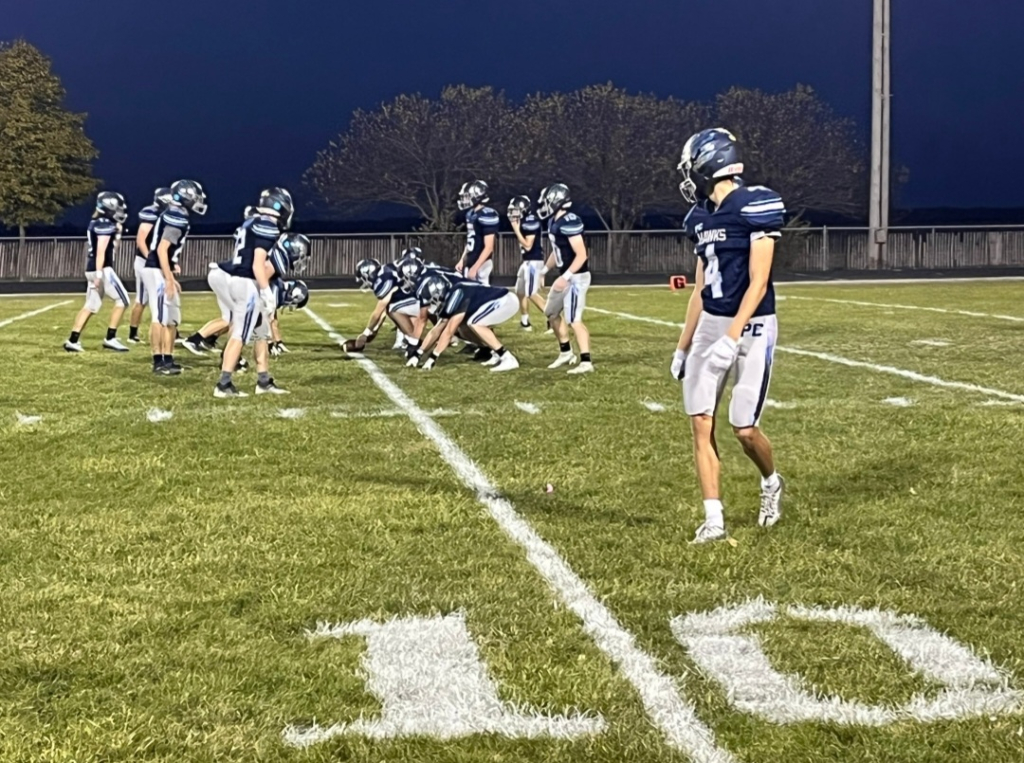 By Jake Fogal
FAIRBURY – The ground game attack that has been fundamental for Prairie Central all season long proved successful again in Week 9 as the Hawks soared past Central Catholic 56-13 to secure the Illini Prairie Conference title.
PC also boosted their record to 9-0 on the year, the first undefeated record for the Hawks since 2006.
Five players for Prairie Central found the end zone in the win. Quarterback Drew Haberkorn began the festivities with a run up the middle for an early first quarter score. The senior quarterback collected another six points later in the contest. Tyler Curl added two touchdowns for the hawks on the night, both coming in the second quarter. The three remaining scores came from senior Drew Fehr, junior Brian Zhao, and sophomore Hudson Ault.
Central Catholic found themselves on the scoreboard late in the first quarter, as Colin Hayes connected on a pass to Ryan Hoeferle. The next time the Saints reached the end zone came in the fourth quarter as senior Jameson Kiley rushed for 4-yards for a touchdown.
Playoff matchups will be released on Saturday, and both Prairie Central and Central Catholic have qualified for the postseason.
Other final scores throughout Central Illinois in Week 9:
(6-3) Normal Community 49-8 Peoria Manuel (1-8)
(9-0) Mahomet-Seymour 47-20 Bloomington (3-6)
(8-1) Normal West 7-0 Champaign Centennial (7-2)
(6-3) Jacksonville 70-49 U-High (3-6)
(9-0) Ridgeview-Lexington 41-7 LeRoy (3-6)
(6-3) Robinson 40-16 Pontiac (1-8)
(7-2) Triad 28-0 Lincoln (4-5)
(7-2) Eureka 21-0 Dee-Mack (4-5)
(7-2) El-Paso Gridley 30-22 Tri-Valley (7-2)
(4-5) Clinton 28-20 Sullivan-Okaw Valley (4-5)
(5-4) Olympia 47-6 PORTA (0-9)
With the win over Champaign Centennial, the Wildcats of Normal West have captured the Big 12 Conference Championship. Also, as El-Paso Gridley defeated Tri-Valley tonight and Eureka topped Dee-Mack, it becomes a three way Heart of Illinois Conference share between the Titans, Vikings and Hornets.
The teams listed above are bound for the playoffs, joining them are Normal Community and Ridgeview-Lexington. Olympia is playoff eligible which does not guarantee them a postseason bid at five wins.
The High School Football Extravaganza is sponsored by CEFCU. Not a bank, better.
The regular season has culminated, but several area teams look to continue their run of success into the playoff's beginning next week. First Round games are unknown at this time, and will be released at tomorrow.
Jake Fogal can be reached at [email protected].