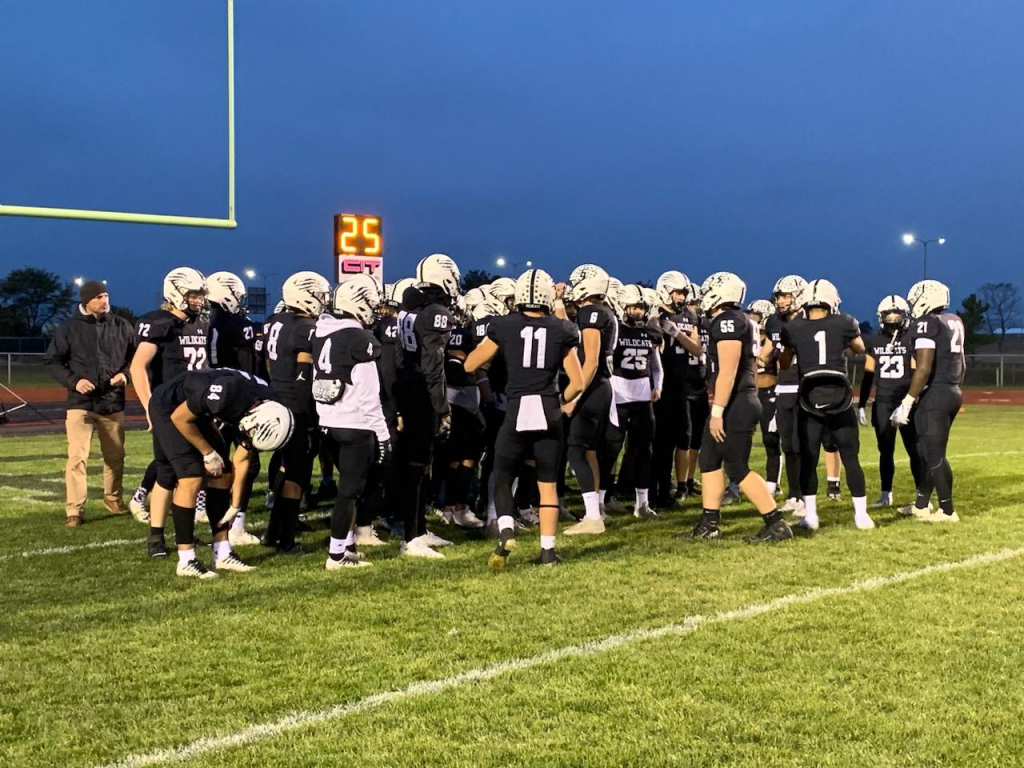 By Jake Fogal
NORMAL – The Normal West defense made plays as rain drops soaked into the field at Wildcat Stadium. A total of six turnovers and a consistent offensive game plan was enough to separate the Wildcats from the Lions in Week 8, winning 30-6.
Peoria was first on the scoreboard, leading 6-0 in the first quarter. Three fumbles and three interceptions, one of which was returned for a touchdown by senior Xavier Edwards, halted any momentum that Peoria could create. Wildcats quarterback Jayden Mangruem snuck into the endzone for a touchdown in the first half, and was joined in the scoring category by linebacker Brock Leenerman on a wildcat goal-line conversion and wide receiver Michael Williams with a long reception from Mangruem.
The Wildcats improve to 7-1 overall and 6-0 in Big 12 play. West was ranked eighth in the Class 6A ranking earlier this week. Peoria takes a step back in the standings, suffering their first loss of the season now putting them at 7-1 overall and 5-1 in Big 12 play.
Other final scores throughout Central Illinois in Week 8:
(5-3) Decatur MacArthur 14-9 U-High (3-5)
(5-3) Normal Community 19-13 Peoria Notre Dame (3-5) OT
(3-5) Bloomington 37-7 Champaign Central (2-6)
(8-0) Prairie Central 48-13 Monticello (5-3)
(7-1) Tri-Valley 6-0 Eureka (6-2)
(3-5) Clinton 14-6 Meridian (1-7)
(6-2) Auburn 48-26 Olympia (4-4)
(2-6) IVC 14-0 Pontiac (1-7)
(4-4) Dee-Mack 64-14 Fieldcrest (1-7)
(8-0) Lexington-Ridgeview 41-6 Heyworth (2-6)
Central Catholic 40-7 Alton Marquette
LeRoy and GCMS all play on Saturday. Scores will be updated at a later time.
The High School Football Extravaganza is sponsored by CEFCU. Not a bank, better.
The regular season comes to an end next week as many teams are vying for a playoff spot with one week remaining. Next week's coverage takes us to state ranked Prairie Central, as the Hawks host Central Catholic in an Illini Prairie Conference battle.
Jake Fogal can be reached at [email protected]