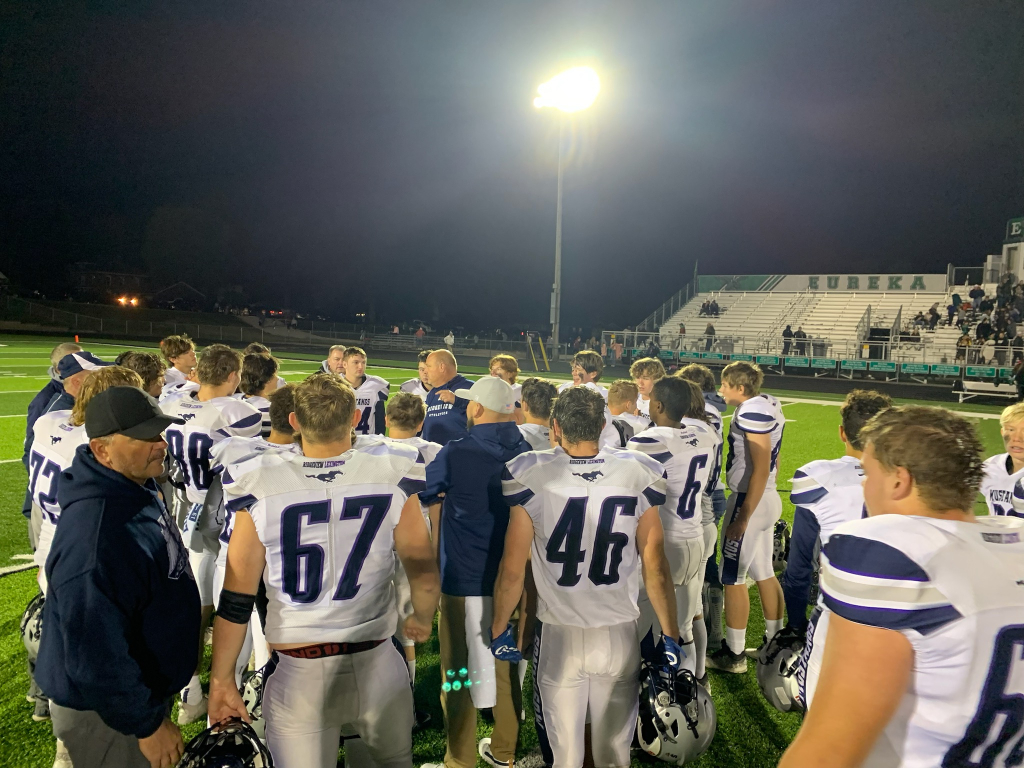 By Jake Fogal
EUREKA – Two unbeatens took the field in Eureka Friday night for Week 7 action in the Heart of Illinois Conference. It was an early start for the Hornets to get up 7-0, but the Mustangs defense forced five turnovers leading to a 21-7 win.
Quarterback Jacob Morin of Eureka, got the first score of the contest as the Hornets implemented a quarterback option that made an easy score possible early in the first quarter.
Eureka put the ball in the trusted hands of Rylan Bachman on the following drive, and he fumbled on the first play after being shaken up. The fumble put the Mustangs on the Hornets' 7-yard line, later resulting in a score by Kaden Farrell.
Defense played the biggest factor in the game through the first half, as the Mustangs came away with three turnovers, but could only get into the endzone once. Both teams entered the second half knotted at 7.
Farrell made his presence known again in the third quarter, turning on the jets for a 76 yard run. The senior running back got in the endzone one more time in the fourth quarter, being the catalyst in the Mustangs 21-7 victory.
Other final scores throughout Central Illinois in Week 7:
(6-1)Rochester 56-14 U-High(3-4)
(6-1)Normal West 17-0 Quincy Notre Dame(3-4)
(7-0)Peoria 54-0 Bloomington(2-5)
(5-2) Central Catholic 17-14 Illinois Valley Central(1-6)
(2-5)Clinton 28-14 Warrrensburg-Latham(2-5)
(6-1)Tri-Valley 60-14 Gibson City-Melvin-Sibley(3-4)
(7-0)Prairie Central 53-6 Mercer County(5-2)
(4-3)Olympia 24-15 Pleasant Plains(2-4)
(4-3)Effingham 47-0 Lincoln(3-4)
(4-3) St. Joseph-Ogden 42-0 Pontiac(1-6)
(3-4)Dee-Mack 44-6 LeRoy(3-4)
(5-2)El Paso-Gridley 49-20 Heyworth(2-5)
The High School Football Extravaganza is sponsored by CEFCU. Not a bank, better.
Tune in next week as two juggernauts in the Big 12 conference meet as Normal West hosts undefeated Peoria in Week 8.
Jake Fogal can be reached at [email protected].