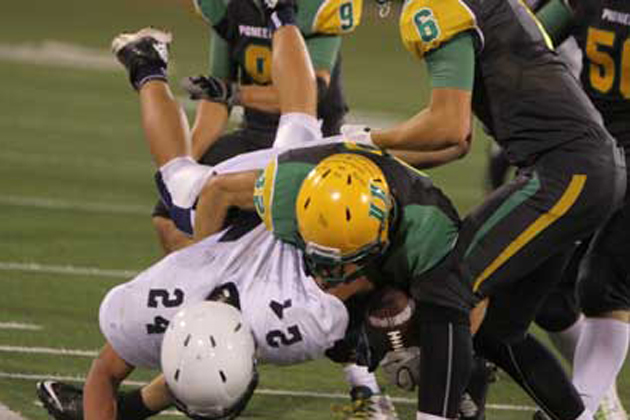 By Jake Fogal
BLOOMINGTON – It was a night to forget for the University High Pioneers as Sacred Heart Griffin came to the Twin Cities and picked up a 49-7 win. The number one team in Class 4A shutout the Pioneers 41-0 through the third quarter, before U-High was able to strike for it's first points of the game on a Colin Cunningham quarterback run.
The Pioneers fall back to .500 on the season at 3-3, and has a daunting schedule remaining through the last three weeks of the regular season. First they go on the road in Week 7 for a bout with 5-1 Rochester. Week 8 brings a challenging Decatur MacArthur team to Normal, and the season finale sends the Pioneers to Jacksonville.
Other final scores throughout Central Illinois in Week 6:
(3-3)Normal Community 50-43(3OT) Danville(3-3)
(6-0)Champaign Centennial 49-14 Bloomington(2-4)
(5-1) Normal West 41-14 Peoria Manuel(0-6)
(4-2) Central Catholic 42-20 St. Joseph Ogden(3-3)
(6-0)Lexington-Ridgeview 40-12 GCMS(3-3)
(6-0) Eureka 33-3 El-Paso Gridley(4-2)
(6-0)Maroa-Forsyth 42-20 Olympia(3-3)
(5-1)Tolono Unity 48-0 Pontiac (1-5)
(5-1)Tuscola 29-7 Clinton(1-5)
(6-0)Prairie Central 51-8 Paxton-Buckley-Loda(5-1)
(5-1)Ottawa Marquette 40-17 LeRoy(3-3)
(5-1)Tri-Valley 41-0 Fieldcrest(1-5)
(4-2) Lincoln 27-7 Mattoon(1-5)
(2-4) Dee-Mack 46-0 Tremont(1-5)
The High School Football Extravaganza is sponsored by CEFCU. Not a bank, better.
Tune in next week as WJBC heads outside the intercity for the first time this season, traveling to Eureka for a matchup against unbeaten as the Hornets meet Lexington-Ridgeview in Week 7 action.
Jake Fogal can be reached at [email protected].