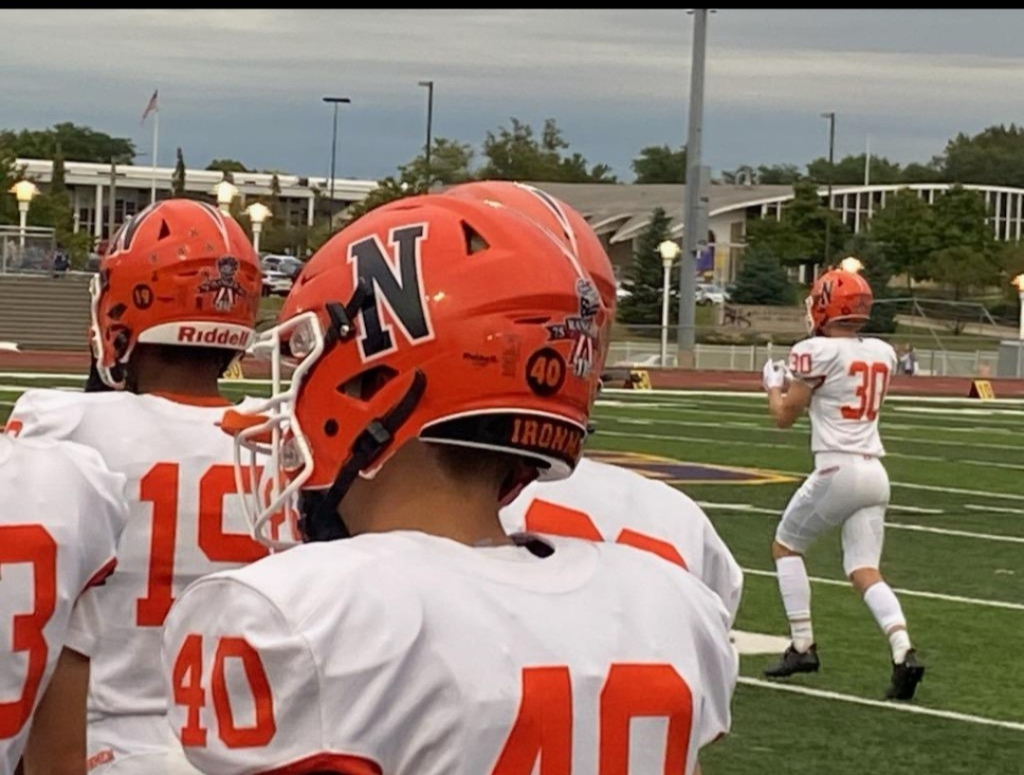 By Jake Fogal
BLOOMINGTON – As rain fell from above and lightning lit up the sky, tough playing conditions and delays played the main factor in Normal Communities win over the Bloomington Purple Raiders, 35-7. The game was called with 5:19 left to go in the fourth quarter, as lightning filled the sky for the second time during the game. Both Community head coach Jason Drengwitz and BHS head coach Scott Godfrey met at midfield and agreed to call the contest.
The Ironmen found the endzone in unusual ways in Week 5, cashing in on a Fake Run by Austin Thierry to go up 7-0. They then implemented a flea flicker that boosted NC's lead to 14-0. Add in a screen pass, a quarterback option run, and a kickoff return, and that's how Community manhandled Bloomington in Week 5.
Ironmen Running back Tommy Davis tallied two touchdowns in the win, while Kyle Beaty found the endzone twice with two passing touchdowns. Community moves to 2-3(2-2 Big 12) on the year, while Bloomington drops below .500 for the first time this season, now at 2-3(2-3 Big 12).
Other final scores throughout Central Illinois:
(4-1)Normal West 20-0 Peoria Richwoods(1-4)
(4-1)Tolono Unity 41-14 Central Catholic(3-2)
(3-2)U-High 35-0 Decatur Eisenhower(0-5)
(5-0)St. Teresa 49-7 Clinton(1-4)
(5-0)Eureka 42-0 GCMS(3-2)
(3-2)Monticello 45-0 Pontiac(1-4)
(4-1)Tri-Valley 50-14 Heyworth(1-4)
(4-1)Mount Zion 41-14 Lincoln(2-3)
(3-2)LeRoy 33-14 Fieldcrest(1-4)
(5-0)Ridgeview-Lexington 33-7 El-Paso Gridley(4-1)
(5-0)Prairie Central 54-7 IVC(0-5)
(3-2)Olympia 34-15 New Berlin/Franklin/Waverly(3-2)
Week 5 of the High School Football Extravaganza is sponsored by CEFCU.
Next week, WJBC will travel to Hancock Stadium as the U-High Pioneers meet 5-0 Sacred Heart Griffin beginning at 7:00 p.m.
Jake Fogal can be reached at [email protected].