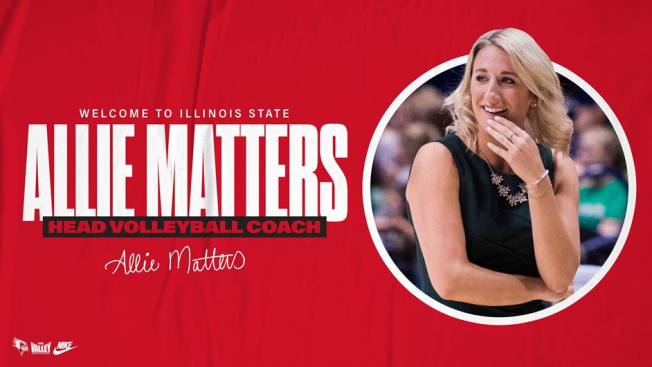 By Neil Doyle
NORMAL – Illinois State University has named Allie Matters the eighth head coach in the history of the Redbird volleyball program.
"I am so grateful for this opportunity to lead the Illinois state volleyball team," Matters said in a news release. "I want to thank President Terri Goss Kinzy, Director of Athletics Kyle Brennan, Senior Deputy Director of Athletics/SWA Leanna Bordner and the entire senior staff for their passion and commitment to the volleyball program and women's athletics. ISU Volleyball has been built on the shoulders of extraordinary women, and I am eager to get to work and continue its rich history and tradition of success. I am honored to be a Redbird."
Matters joins the Redbird volleyball program after four seasons as the head coach at Wright State University where she led the Raiders to two NCAA Tournament appearances, two Horizon League regular season titles and a Horizon League Tournament title.
Fans are invited to welcome Matters to Illinois State at a fan event on Monday, March 14 at the Aaron Leetch Legacy Club at Hancock Stadium. More details will be posted on goredbirds.com and the Redbird Volleyball social media accounts.
Neil Doyle can be reached at neil.doyle@cumulus.com