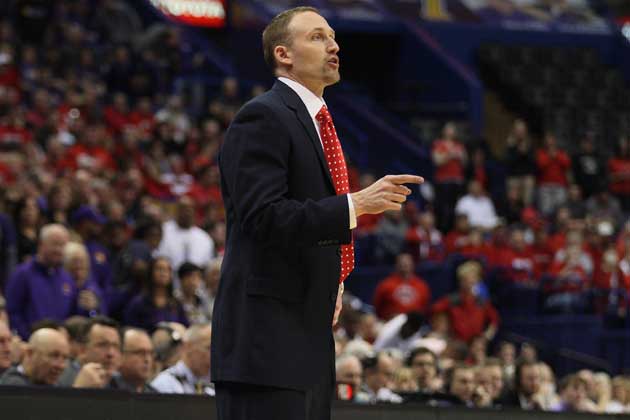 By Jake Fogal
BLOOMINGTON-Following 10 seasons that saw highs and lows, Illinois State Athletic Director Kyle Brennan has notified Redbird men's basketball head coach Dan Muller that he will not return for the 2023 season.
"Announcing a head coaching change during a season is a difficult decision I don't take lightly, especially with a coach who has given so much of his life to ISU and Redbird Athletics with integrity, passion and commitment. I believe this is what is best for our current student-athletes and the future of the program," Brennan said. "We have not been performing at a consistent level and we have not seen the continued growth needed to get back into contention in the Missouri Valley Conference."
The Redbirds sit at 11-15, 4-9 in Missouri Valley Conference play, and have struggled after a strong start. ISU is 1-6 in their last seven conference games, and continue to have issues when performing on the road.
In 10 seasons as the head coach at Illinois State, Muller has collected a 167-150 record and coached the Redbirds to a share of the 2017 MVC regular-season title. Before his tenure as a coach, Muller put together a Hall of Fame worthy career as a player in the late 1990's with the Redbirds.
The former Redbird ranks 11th in career scoring with 1,445 points and was a two-time MVC Defensive Player of the Year. Muller was also apart of the last team that Illinois State sent to the NCAA tournament (1997 & 1998), as he led ISU to two regular-season and Missouri Valley Conference Tournament championships and four postseason appearances.
"Dan Muller and his family will always be valued members of the Redbird Family. I want to thank Coach Muller for how he has and will continue to represent Illinois State University and his dedication to our students," ISU President Terri Goss Kinzy added.
Muller will stay on board as head coach through the remainder of the 2022 season, after his players voted him to remain as the teams coach. A comprehensive, national search for a new head coach will begin immediately.
Jake Fogal can be reached at Jacob.Fogal@Cumulus.com.