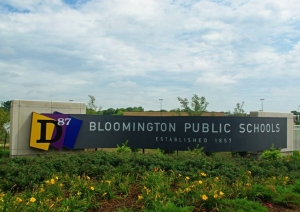 By Heart of Illinois ABC
BLOOMINGTON – A Clinton man wants a hearing before the Bloomington District 87 School Board to answer charges alleging he unleashed an obscenity-laden rant after a board meeting in September.
Heart of Illinois ABC obtained a copy of a letter Superintendent Barry Reilly sent to Shane McCurdy on October 1. In it, Reilly said he wants McCurdy banned from school property for his behavior after the September 22 school board meeting.
The letter quotes McCurdy as telling administrators and elected board members, "You are being watched." He also allegedly called the school leaders "communists" and "sellouts."
Reilly said in the letter that McCurdy continued to use profanity even as Bloomington Police officers and District 87′s Director of Safety & Security stood between him and school officials.
"Because of your demeanor, body language, and verbal language, board members and district administrators were concerned for their own personal safety," said Reilly.
"Board members and district administrators felt threatened and harassed by your behavior," Reilly also said.
McCurdy's appearance on any District 87 property would lead to his arrest for trespassing, the superintendent said.
His hearing, initially scheduled for Wednesday, was postponed. Reilly said it will be rescheduled, likely later this month.
Heart of Illinois ABC can be reached at News@WJBC.com.