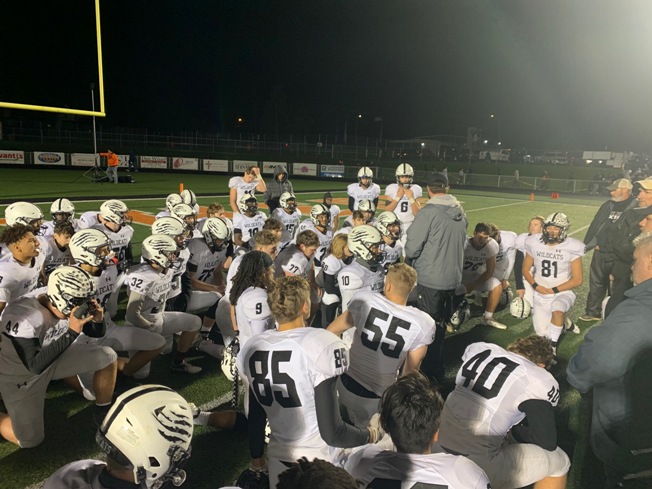 By Neil Doyle
WASHINGTON – In the first round of the IHSA football playoffs it was Washington over Normal West 14-7 in the class 6A bracket.
The Wildcats failed to score until the fourth quarter, but it was a touchdown pass from Jayden Mangruem to Max Ziebarth that cut the defect to one score.
The defense stepped up late for Normal West and a missed field goal by the Panthers gave the Wildcats one last possession. But the drive stalled out with an incomplete pass on fourth down.
"We were down 14-0, could have very easily folded, and this could have been a blowout," said Normal West head coach Nate Fincham. "I challenged them at half to step up and learn from last week. They did and battled their butts off, we just came up short."
Both Washington touchdowns came in the second quarter. Two runs, one from Cade Biedscheid and the other from Thomas Borges.
Class 7A
Normal Community got a win in the first round over Blue Island Eisenhower 33-6. The Ironmen will face Jacobs in the second round.
Saturday games:
Class 1A
Ridgeview-Lexington vs. Rushville, 1 p.m.
Class 2A
Rockridge vs. Tri-Valley, 1 p.m.
North Lawndale vs. Dee-Mack, 1 p.m.
El Paso-Gridley vs. Farmington, 1 p.m.
Class 3A
Eureka vs. Paxton-Buckley-Loda, 1 p.m.
Chicago King vs. Prairie Central, 2 p.m. (Can be heard on our sister station Class Hits 98.9 WJEZ)
Momence vs. Tremont, 2 p.m.
Neil Doyle can be reached at neil.doyle@cumulus.com