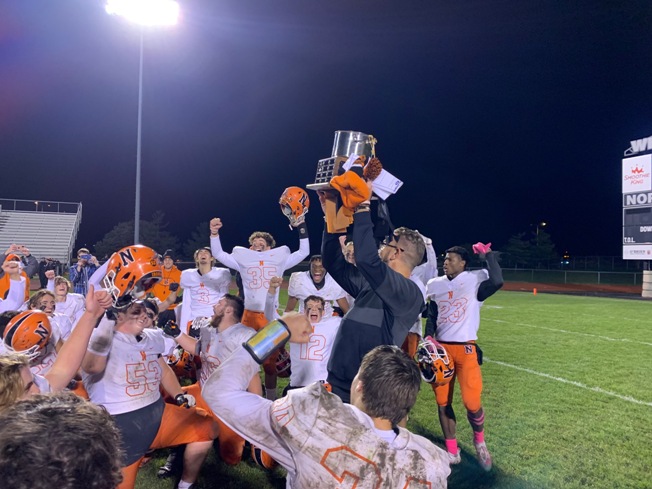 By Neil Doyle
NORMAL – In the 27th edition of the Chili Bowl it was Normal Community beating Normal West 45-7.
NCHS led 10-7 late in the second quarter but an 80-yard touchdown run from junior Chris Taylor made it 17-7 at the half.
Then it was all Ironmen as they scored four times in the third quarter. A touchdown pass from Tommy Davis to Chase Mackey, Kyle Thierry had a pick six, Taylor returned a punt for a touchdown, and Tommy Davis rushed one in.
The Ironmen (9-0) finished the regular season undefeated as the Big 12 Conference champs.
"When you start the season you know it's going to be a huge process and a huge challenge and to have it come to fruition it feels great," said NCHS head coach Jason Drengwitz. "But more than anything I'm just excited for our kids. Everything they've done and everything we've asked them to do over the past 18 months during the pandemic."
The Wildcats (6-3) scored on their first possession on a Max Ziebarth catch, but turnovers made the difference.
"These moments tend to happen for us and it's something that we're constantly working on, just how do we minimize the multiple negative plays and how do we stop that from stacking on us," said Wildcats head coach Nathan Fincham. "That's something we've got to learn with this group, we've got a lot of sophomores and juniors that are playing, and it's something they can learn from hopefully and even use next week."
Both teams are playoff eligible. The playoff pairings show is Saturday night.
Other scores:
Prairie Central 15 Central Catholic 0
Mahomet Seymour 21 Bloomington 7
Rochester 47 U-High 0
Tri-Valley 49 El Paso-Gridley 14
GCMS 56 Heyworth 19
Eureka 29 Dee-Mack 20
Ridgeview 51 LeRoy 0
Tremont 50 Fieldcrest 14
Neil Doyle can be reached at neil.doyle@cumulus.com