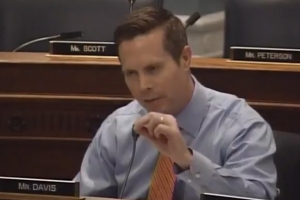 By Blake Haas
BLOOMINGTON – A central Illinois Congressman is firing back on the Biden Administration as President Biden continues to tout his "Build Back Better" agenda.
At the heart of President Biden's plan is a massive $3.5 Trillion budget resolution that includes funding for environmental programs, health and family services.
Congressman Rodney Davis (R-Taylorville) said the budget resolution proposal is chalked full of bad policy and is "full of crap."
"$3.5 Trillion worth of bad policy and tax and cost increases on every single American family along with job-killing green new deal policies that are high on the sky policies. It's still a pile of crap. Whether it's $3.5 (trillion), $2.2 (trillion), or $1.5 (trillion), it's still over a trillion dollars of bad policy and bad economic decisions that are going to continue to add to the inflationary crisis and the budgetary crisis."
The Taylorville Republican told WJBC's Scott Miller that the Democrats need to shift their focus to the board crisis instead of passing a budget resolution.
"They don't want to do that (work on the border crisis) because they know the majorities are going to be taken away from them, and they want to go as far left as they can in the next couple of years."
According to Davis, the resolution would include higher tax rates for small businesses, including ones in his district.
The Congressman said some small businesses would be paying seven percent more than before the Trump administration's tax cuts.
Last week President Biden said talks on the resolution have hit a "stalemate."
Blake Haas can be reached at Blake.Haas@Cumulus.com.