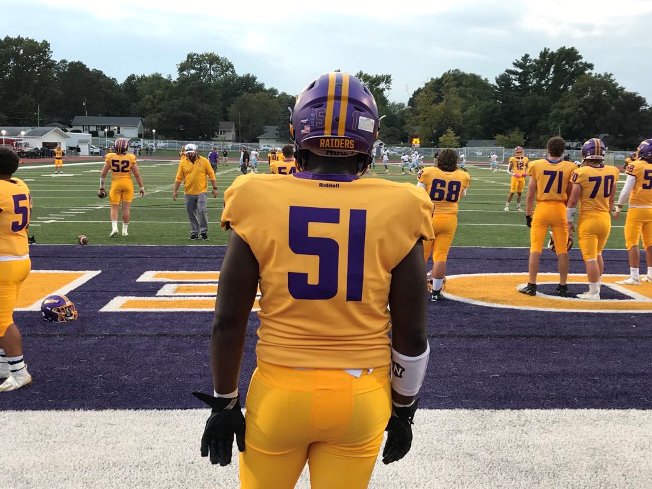 By Neil Doyle
BLOOMINGTON – Early turnovers hurt the Bloomington Purple Raiders (3-3) as they fell in Week 6 to Champaign Centennial (3-3) 40-20.
A few fumbles from Bloomington quarterback Marcus Griffin gave the Chargers good field position and Centennial running back Brandon Harvey scored three touchdowns in the first half, giving the Chargers a 27-0 lead at the half.
Bloomington was held scoreless until a touchdown run in the third quarter from Griffin. The junior quarterback scored another rushing touchdown and threw for one to senior tight end Kaden Smith.
"You can't come out with that kind of intensity and make that many mistakes. You can't do that and win a game against a good ball team," said Bloomington head coach Scott Godfrey. "They played well defensively, they flew to the ball, and they defeated our blocks and won all night long.
"It's time to get to work, that is what I told them, come to work tomorrow. We've got to be better than we were this week cause we're not going to win many games if we play like this," Godfrey added.
Around the Intercity: A big win for Normal Community (6-0) on the road as they beat Peoria High (4-2) 42-38. Central Catholic (3-3) lost its third straight to St. Joseph Ogden (3-3) 33-0. U-High (2-4) fell on the road 40-0 to Springfield (4-2). Norma West (4-2) took a forfeit win with Urbana cancelling its season.
Other games around the area:
Tri-Valley 54 Fieldcrest 6
El Paso-Gridley 14 Eureka 9
Dee-Mack 12 Tremont 6
Ridgeview 20 GCMS 0
Heyworth 54 Fisher 30
Ottawa Marquette 21 LeRoy 6
Prairie Central 14 Paxton-Buckley-Loda 8
Tolono Unity 48 Pontiac 6
Neil Doyle can be reached at neil.doyle@cumulus.com