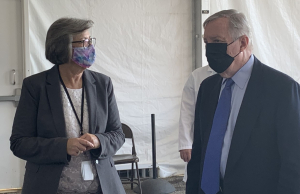 By Dave Dahl
SPRINGFIELD – Helping host U.S. Sen. Dick Durbin (D-Ill.) at a parking-lot vaccination clinic, Sangamon County Board of Health president Dr. Brian Miller said the pandemic could have been far worse once Delta arrived.
"We think that we have a lot of cases going on," said Miller. "But I'm going to tell you right now, if this Delta virus had hit eight months earlier, we would not have made it. That extra eight months that we bought by shutting down the system, by giving time for the vaccine to be developed, I think we avoided a catastrophe."
Durbin said the only way to truly beat coronavirus is to get everybody vaccinated.
On another topic – looking toward Saturday's planned rally in support of the crowd which entered the U.S. Capitol Jan. 6, Durbin said it's a shame to spend millions of dollars and put up fences because of "domestic terrorists." And Durbin said that's the FBI's term, not his.
He added America faces a greater threat from within – from far-right white supremacists – than from international terrorists.
Dave Dahl can be reached at News@WJBC.com.