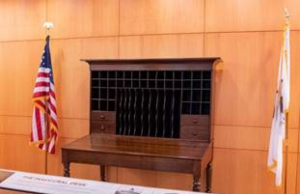 By Dave Dahl
SPRINGFIELD – There's something new — or, rather, something very old — at the Abraham Lincoln Presidential Library in downtown Springfield.
A recently restored "merchant's desk," at which then- President-elect Lincoln wrote his First Inaugural address, is – for about six months, anyway – part of an exhibit called "Lincoln's Life in Letters."
The letters are high-resolution blow-ups of some of Lincoln's most famous documents. The exhibit was being assembled as ALPLM officials decided to restore the desk, which has been in the state's possession since 1953.
Christian McWhirter, the ALPLM's Lincoln historian, says the desk actually belonged to Lincoln's brother-in-law, and Lincoln needed to get away from it all – "Springfield was a small town," McWhirter adds, and everyone wanted a piece of the president-to-be – and write a speech that would be delivered at the time the Deep South broke away to form the Confederacy.
The desk and Lincoln letters exhibit are at the library, which is across the street from the museum. And the library, unlike the museum, is free to visit.
Dave Dahl can be reached at News@WJBC.com.