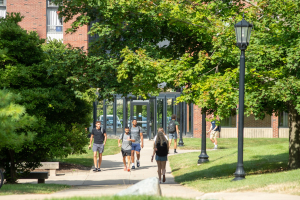 By Blake Haas
BLOOMINGTON – Fall enrollment numbers are out, and Illinois Wesleyan University's incoming class includes the most diverse class in school history.
The incoming class includes 163 students, who identify as students of color, equally about 34% of the entire class.
According to Greg King, Dean of Admissions for IWU, the incoming class comprises 15 countries and 25 different states.
"For the first time in our countries history, that 17-18 year old demographic is now majority non-white. We knew that the opportunity was there to find some students that historically haven't chosen us. (We) connected well with those students and families, and a record number chose us as their University of choice."
Another record for IWU is the homegrown students from McLean County, where the University totaled a record-high 66 new students from McLean County, a 14% increase over last year's total.
"Looking back over the last five years, we've really grown in McLean county. Historically, many of our students were from the Chicago suburbs, and we realized that we had some great students from our own backyard. And the McLean County Associates, a group of alumni and friends of the University, funded a scholarship for us where we were able to add to our existing scholarships for McLean County students; and really make it a great value. We've had growth from all of the McLean county high schools."
The fall class includes 113 first-generation students and 40 students who had a close family member or relative attend IWU.
IWU's fall enrollment was up to 1,653 from 1,636 in 2020.
Blake Haas can be reached at Blake.Haas@Cumulus.com.