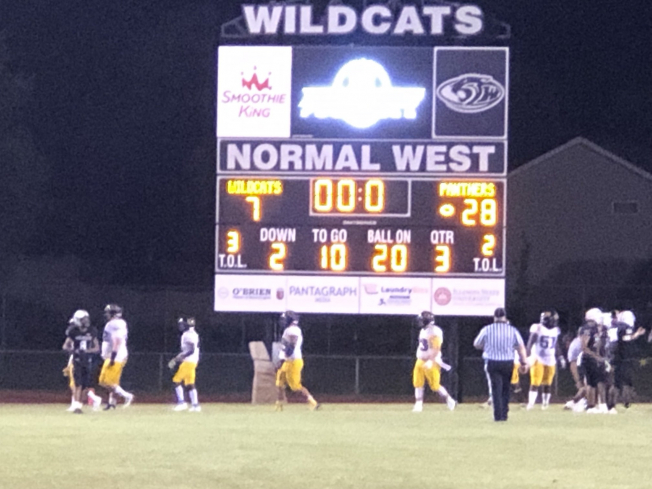 By Neil Doyle
NORMAL – The Normal West Wildcats will look to bounce back after a loss week one as they welcome in Champaign Central on Friday night.
Normal West head coach Nathan Fincham says O'Fallon was a tough opponent last week, but he is confident the team will be able to bounce back in week two. He says the Maroons present some challenges on both sides of the ball.
"They've got some athletes and if we don't do what we're supposed to and know our keys going into the game there are some guys that can hurt us," Fincham said. "Last time we played them two years ago they kind of jumped out to an early lead and got up on us early before we were able to respond."
Around the Intercity, Normal Community plays its first home game against Peoria Manual. The Ironmen are coming off a week one win over Bloomington 35-0.
Central Catholic also picked up a victory to start the season 46-20 over Pontiac. The Saints hit the road this week to face Rantoul.
The Pioneers of U-High lost to Decatur MacArthur last week 50-9 and will try to bounce back with a home game against Jacksonville. It will be Senior Night at Hancock Stadium.
No game this week for Bloomington as Urbana canceled the remainder of its varsity season.
All of our coverage starts with the pregame at 6:10 p.m. on AM 1230 WJBC, FM 102.1 and WJBC.com.
Other games around the area:
Heyworth vs. LeRoy
Dee-Mack vs. Tri-Valley
Ridgeview vs. Villa Grove
Fieldcrest vs. El Paso-Gridley
GCMS vs. Fisher
Pontiac vs. Prairie Central
Argenta vs. Clinton
Olympia vs. Paxton Buckley Loda
Neil Doyle can be reached at neil.doyle@cumulus.com