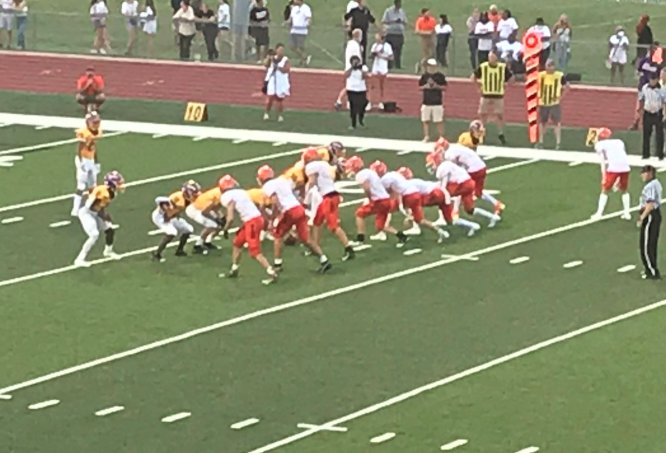 By Neil Doyle
BLOOMINGTON – The Ironmen of Normal Community used the strong play of senior quarterback Chase Mackey to defeat Intercity rival Bloomington 35-0.
Mackey accounted for four touchdowns, three passing and one rushing. NCHS senior running back Michael Coleman rushed for a touchdown as well.
"The thing I liked about our team is they stayed the course and didn't panic, once we settled in our playmakers made some plays," said Ironmen head coach Jason Drengwitz. "Chase made some unbelievable throws, Terance Washington made some nice plays, Chris Taylor as well, thought there were a lot of good things out there."
The Purple Raiders offense struggled to move the ball and Bloomington head coach Scott Godfrey says the Ironmen were the aggressors on both sides of the ball.
"Nowhere to go but up, we were as sloppy as we've been since I've been the head coach here. We've got to have a next man up mentality around here, when guys go down or if we are playing without guys the next guy has to step up and that definitely did not happen tonight," said Godfrey.
Normal Community plays at home next week against Peoria Manual. The Purple Raiders will host Urbana.
Other area scores:
O'Fallon 34 Normal West 7
Central Catholic 46 Pontiac 20
Decatur MacArthur 50 U-High 9
Dee-Mack 20 Ridgeview 12
Tri-Valley 43 Arthur 0
Central A&M 41 LeRoy 6
Tri-County 26 Heyworth 18 OT
Meridan 16 El Paso-Gridley 7
Tolono Unity 41 Prairie Central 28
Lincoln 58 Clinton 6
Olympia 28 Rantoul 26 OT
You can find other scores and schedules for you favorite teams on our WJBC Sports Scoreboard.
Neil Doyle can be reached at neil.doyle@cumulus.com