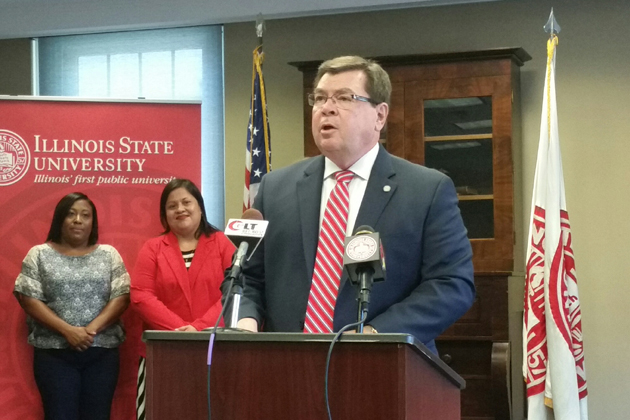 By Neil Doyle
NORMAL – A career that spanned five decades is coming to a close. Illinois State University President Dr. Larry Dietz retire Wednesday as the university's 19th president.
"This has been a great experience working for the university and I'm going to miss the people. But I've been at this for 50 years across three states at four institutions, one of those institutions twice, so that is a long time," said Dietz.
Dietz spoke with WJBC's Scott Miller for his last on-air interview.
ISU President Dr. Larry Dietz final WJBC interview before retiring
The Scott Miller Show is the world according to https://t.co/r8Czs4wfc1

— WJBC AM-1230 (@WJBC) June 29, 2021
After growing up on a dairy farm in southern Illinois, Dietz says a lot of people ask how he got to this point.
"The first thing you need to do, is whatever job you have, is just do the very best you know how to do at that job," Dietz said. "Then it doesn't hurt if you have aspirations beyond that or if you think you can do more, let the person know you are reporting to, that way it can help groom you for the next position and help mentor you."
Dietz says he and his wife Marlene are staying local and still want to support the university in different ways.
Thursday is the first official day for ISU's 20th President Dr. Terri Goss Kinzy.
Neil Doyle can be reached at neil.doyle@cumulus.com