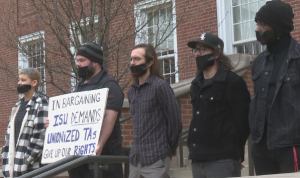 By Heart of Illinois ABC
NORMAL – Illinois State University issued a statement late Wednesday on the graduate workers' strike authorization vote, indicating it believes the two sides can make progress on a contract.
The university said the authorization vote does not mean there will be a strike, and state law requires the union to provide a ten-day notice-of-intent to strike prior to an actual walkout.
The statement went on to say that a strike can not occur unless mediation efforts fail.
The next session with the federal mediator is Thursday, and the university said it "firmly believes that progress can still be made."
ISU Graduate Workers Union SEIU Local 73 held the vote from April 5 through April 19, resulting in 98% in favor of authorizing the bargaining team to call a strike vote and strike if the membership votes to do so, according to a press release from the union.
On Thursday, the bargaining team will meet with ISU in mediation.
On Friday April 23, the GWU will hold a full membership meeting to discuss the ramifications of the strike authorization voting results, and how to proceed given overwhelming approval from members.
Heart of Illinois ABC can be reached at News@WJBC.com.