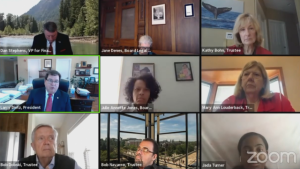 By Heart of Illinois ABC
NORMAL – Illinois State University's Board of Trustees is considering an increase in costs for students.
They discussed the topic Saturday at their Board of Trustees meeting, where ISU President Larry Dietz suggested a tuition increase of 1-2%.
A 1% increase in costs would generate an estimated additional $2 million.
Dietz said a gradual increase will be better than a static increase.
"I think it will be a modest increase," said Dietz. "I think there is some danger in not increasing at all for a number of years and then all of the sudden having to jump up to a much higher amount than some of our peers."
Dietz stressed that any increase in costs will only apply to new incoming students.
Heart of Illinois ABC can be reached at News@WJBC.com.