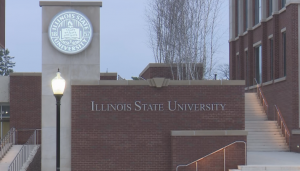 By Heart of Illinois
NORMAL – The union representing more than 400 graduate teaching assistants at Illinois State University plan on staging a "silent protest" Thursday, ahead of a planned strike authorization vote early next month.
Graduate workers seeking their first collective bargaining agreement will gather at 3 p.m. Thursday at Hovey Hall, where university administrators have their offices.
In a news release, union members said their mouths will be taped shut, symbolizing what they claim is ISU's desire to discipline workers who encourage other unions to participate in striking or picketing if a walkout happens.
A strike authorization vote is scheduled for April 2, but that doesn't mean union members would happen immediately after the vote.
A federal mediator is now involved in contract negotiations, which started in October 2019.
The teaching assistants are represented by Service Employees International Union (SEIU) Local 49.
In a statement released Thursday night, ISU spokesperson Eric Jome told Heart of Illinois-ABC that the university "respects the right of SEIU Local 73 to protest."
"We are awaiting a response from the union on the university's counterproposals," said Jome.
He went on to say, "ISU remains committed to ongoing good-faith negotiations and continues to believe there is progress to be made."
Heart of Illinois ABC can be reached at News@WJBC.com.