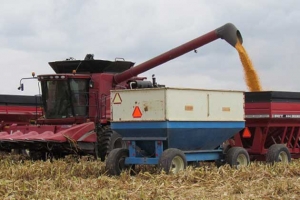 By Dave Dahl
SPRINGFIELD – Illinois corn growers are out with their legislative wish lists – for both Washington and Springfield. Association president Randy DeSutter of Knox County says it's about transportation.
"At the top of the list," DeSutter said, "is getting new locks and dams on the Illinois and Mississippi Rivers. We export all kinds of corn, (dried distilled grains) … (and) ethanol, so the river system is very important.
"Congress is talking about a transportation bill."
Closer to home, Jacqueline Muhammad of ICGA staff said, "We'll be pursuing a boil that allows fuel retailers to use existing infrastructure to sell E-15 around the state."
Muhammad, the group's biofuels and public policy manager, said another idea is to require gas stations which sell 850,000 gallons or more per year to carry E-15.
Dave Dahl can be reached at News@WJBC.com.