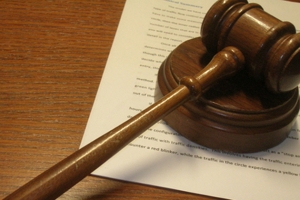 By Illinois Radio Network
SPRINGFIELD – Lawyers representing dozens of cancer patients and their families have claimed the company they accuse of releasing a cancer-causing chemical has been raiding its coffers to minimize any potential payout, but the company denied the assertions.
Sterigenics faces at least 76 lawsuits accusing the company of releasing dangerous concentrations of ethylene oxide, a cancer-causing sterilization agent used in the company's Willowbrook facility. The plaintiffs claim the company's operations caused various illnesses over the past three decades.
Attorneys representing many of the plaintiffs said Sterigenics has been draining company assets by paying stockholders and taking out secured loans using company assets as collateral in an effort to minimize any potential payout should the lawsuits prevail.
"Sterigenics and the companies associated with it have transferred out nearly $1.3 billion from the companies to shareholders," said Bryce Hensley, attorney at Romanucci and Brandin. "It absolutely implies guilt. It shows a corporate mindset of profits over people."
Hensley said public records show a pattern of liquidation that started around the same time the U.S. Environmental Protection Agency reclassified ethylene oxide as a "known carcinogen" that was more lethal than previously categorized.
Sterigenics said the claims were inaccurate and misleading.
"The companies regularly take actions to maintain and enhance their financial strength for the benefit of all stakeholders as they invest for the future and continue to deliver vital services and products to customers," a spokesman for Sterigenics said in a statement. "Assertions that the companies took actions with respect to capital structure in response to ongoing litigation are false."
The cases against Sterigenics remain in early stages and no judgments have been filed against the company, which denies its Willowbrook facility caused the plaintiffs to get cancer.
"While we empathize with anyone dealing with cancer, we are confident that operations at our Willowbrook facility are not responsible for causing the illnesses alleged in any lawsuit," the company said. "We look forward to continuing to present our case in court to defend against the plaintiffs' baseless charges."
The company announced it would close its facility in Willowbrook last September, citing the "unstable legislative and regulatory landscape in Illinois."
Illinois lawmakers passed the "Matt Haller Act" in 2019, named after a cancer patient who died who had claimed to have been sickened by Sterigenics. The new law imposed the strictest regulations on ethylene oxide release in the nation.