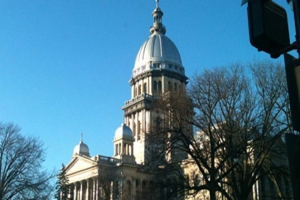 By Illinois Radio Network
SPRINGFIELD – As the state's pension liabilities mount, fewer taxpayers remain to pay the tab.
The Auditor General reported the state's largest pension fund, the Teachers' Retirement System, increased in overall liability by $4.5 billion to $134.4 billion. Around $3.2 billion of that isn't funded. The total unfunded liability for TRS was $81.1 billion, meaning TRS was 39.6 percent funded.
Truth In Accounting Research Director Bill Bergman said the increased liability is even more concerning when considering a different datapoint – Illinois continued to lead the nation in outbound migration as it did in the past decade with six years of population declines.
"The growing debt is shared with fewer and fewer taxpayers and citizens and as a consequence, the per capita and per taxpayer amount is growing," Bergman said.
Bergman said the audit shows Illinois increased the taxpayer contribution by $400 million to TRS last fiscal year.
"The other side of the coin, of course, is that the cash drain on the state of Illinois rose $400 million and that dollar amount is up to about $4.5 billion a year, which is roughly about five times as much as the members actually contribute," Bergman said.
Bergman said investments were also more sluggish than the year before, despite tailwinds from a booming stock market.
"And taxpayers and citizens are effectively on the downside given the benefits and the plans for teachers," Bergman said.
Illinois taxpayers are also on the hook for the liabilities in four other funds for a total of more than $134 billion of unfunded pension liabilities. Nearly a quarter of every tax dollar the state collects goes to pay for public employee pensions.
That doesn't include the cost of taxpayer-subsidized healthcare costs for state government retirees. Add in that and the unfunded liability tops $200 billion.
State Rep. Tom Bennet, R-Gibson City, said the growing taxpayer costs for pensions and retiree benefits don't help keep people around to pay the bills.
"For some folks in the General Assembly they're going 'well maybe that's more toward weather,' no, the people in my district they tell me it's because of taxes," Bennet said. "People are leaving because of that issue and we've got to find a way to deal with this sooner than later."
Some Republicans have pushed for a constitutional amendment to lower the taxpayer cost of pension benefits, but Democrats have said such an idea isn't popular and remains unlikely to advance.
Illinois Radio Network can be reached at News@WJBC.com.