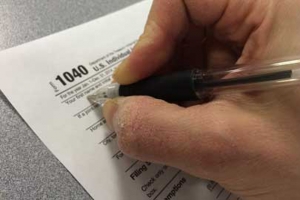 By Illinois Radio Network
SPRINGFIELD – A tax professional has suggested some things Illinois tax filers should consider as they look to close out the year and begin the 2019 tax filing season.
Leonard and Associates Managing Partner Michael Leonard said if you have kids, the No. 1 thing is getting a 529 college savings plan.
"Dollar for dollar, if we invest at least up to $20,000 that will reduce our income in Illinois, dollar for dollar," Leonard said. "So if we make $100,000 and we put $20,000 into a 529 plan we're only going to be taxed on $80,000 in Illinois."
"It's another good thing you can do here to help out for not only college but to protect money from taxes," he said.
For people 70 years old, Leonard suggests filers take their required minimum distribution and give it to charity.
"When you reach 70-and-a-half you have to take what's called a required minimum distribution from your retirement. The IRS has let you defer this income for so long they say 'OK, now that you're 70-and-a-half you're going to have to start paying taxes on that income you've been making for the past 30 years.'"
Giving that required minimum distribution to charity "really offsets their tax burden for the year," he said.
"That's been really helpful for 2018 and I've been putting that as part of the tax plan for 2019 and it's helped out quite a few people that are in that age group."
For typical W2 filers, Leonard said don't worry about receipts because there's not much to write off.
But when it comes to Illinois' high state and local taxes – which are among the highest in the nation – that can no longer be written off of federal taxes. Leonard said policymakers need to do more than just take.
"Something has to help to alleviate this," Leonard said. "You just can't knock everybody out of there. There always has to be give-and-take, but I don't see that. I mean, I see people talking about doing something. I just don't see anything happening."
Leonard warned that high property taxes could lead people to rent, which could lead to lower overall property values.
Illinois Radio Network can be reached at News@WJBC.com.