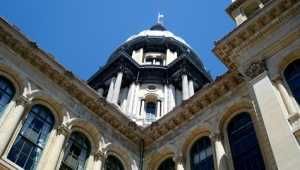 By Illinois Radio Network
SPRINGFIELD – Illinois Republicans in the House want to use the ongoing federal investigations involving state lawmakers to push for a handful of new ethics proposals.
Minority Leader Jim Durkin, R-Western Springs, was flanked by other House Republicans on Thursday in the James R. Thomson Center in Chicago to talk about legislation that he said was a direct response to the recent federal investigations.
"These ethics reform bills are common sense, and a direct response to the wrongdoings we have learned from the current federal investigations," Durkin said. "I am calling on the legislative leaders and the governor to support these initiatives and begin moving them forward next week so they can become law."
The package includes three bills, a resolution, and a constitutional amendment. All involve state lawmakers.
House Bill 3954 would require a more thorough disclosure of lawmaker's economic interests, making them more akin to a judicial disclosure.
House Bill 3947 would ban lawmakers, their spouses or family from becoming paid lobbyists that register to work with local units of government. The state ban on family lobbying doesn't currently extend to local government.
House Bill 3955 would require any communications about state contracts between state officials and lawmakers be made public.
House Resolution 588 would change legislative rules to allow sponsors of any bill that has at least five co-sponsors from each side of the aisle to call the bill for a committee vote. Republicans and Democrats alike have long criticized the existing legislative process, which often ends bills left to die in the House Rules Committee instead of being released to an appropriate committee for consideration. This would represent a significant shift in Illinois' legislative process.
HJRCA 36 would alter the state Constitution by requiring an election to replace a lawmaker who's left a vacancy mid-term. Durkin, who has served in the House since 1995 and was once appointed to replace former Western Springs Republican Rep. Eileen Lyons in 2006 after an unsuccessful U.S. Senate bid, is the sponsor of the initiative.
"It shouldn't take a federal investigation to force the General Assembly to clean up corruption," state Rep. Tom Demmer, R-Dixon, said. "The reform proposals we have introduced are common sense and can be adopted as soon as next week."
Illinois House Republicans are in minority in their chamber as are Senate Republicans. Democrats hold veto-proof majorities to both chambers.
Gov. J.B. Prtizker said earlier this week that he and other state officials are working on changes to address corruption in Springfield. Durkin said he'd spoken with Pritzker about the initiatives and that the governor appeared supportive.
The beginning of the fall veto session was rocked by news that state Rep. Luis Arroyo, D-Chicago, had been arrested the Friday before. A federal criminal complaint claims he offered a state senator, who is also doubling as a federal informant, a bribe for supporting legislation that would have benefited one of Arroyo's lobbying clients. Arroyo is a registered lobbyist with the city of Chicago, representing a company that offers sweepstakes gambling machines.
Federal investigators raided state Sen. Martin Sandoval's offices and home in September looking for evidence of kickbacks. Sandoval has not been charged with a crime.
State Sen. Tom Cullerton, a Villa Park Democrat, was indicted on charges of embezzlement. He has pleaded not guilty.
Illinois Radio Network can be reached at News@WJBC.com.