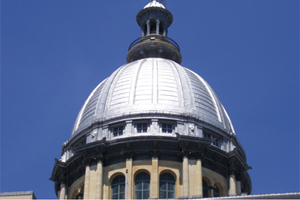 By Illinois Radio Network
SPRINGFIELD – Proposed legislation in both the Illinois House and Senate would make daylight saving time the year-round standard in Illinois.
Both proposals would eliminate the twice-a-year time changes between daylight saving time and standard time. Sponsors of both bills said they hope to see the measures taken up during next week's veto session in Springfield.
In the House, state Rep. Allen Skillicorn, R-East Dundee, filed House Bill 3837 earlier this year. His proposal would eliminate the time change in Illinois. He said the need for Daylight Saving Time changes have become outdated and obsolete.
"Frankly moving the clocks back and forth is a big deal for commuters and workers, and it's not very good for sleep habits either," Skillicorn said.
The time changes can affect sleep habits and health. The National Safety Council this week released the results of a study it conducted about sleep. The survey found 70 percent of Americans were concerned that their sleep habits affect their overall health, and 67 percent worried about the effects on their mental well being.
A similar bill introduced in the Illinois Senate also calls for the elimination of the time changes. State Sen. Andy Manar, D-Bunker Hill, is a sponsor of Senate Bill 533. On social media this week, Manar said he has received a lot of support for the bill.
Manar said he plans to call the bill for a debate a vote on the Senate floor next week.
Both the House and Senate versions of the bill would take effect at the time change in March 2020.
Arizona and Hawaii, along with some U.S. territories, don't observe daylight saving time.
Illinois Radio Network can be reached at News@WJBC.com.