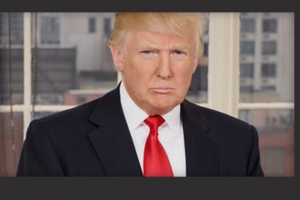 By Illinois Radio Network
SPRINGFIELD – President Donald Trump took issue with Illinois' and Chicago's sanctuary policies for illegal immigrants during a speech at the annual convention of the International Association of Chiefs of Police.
Trump called out Chicago and Illinois' sanctuary status for illegal immigrants.
"The most dangerous and shameful attacks on the rule of law comes from and in the form of sanctuary cities," Trump said.
After the speech, Trump signed an executive order creating the new Commission on Law Enforcement and the Administration of Justice. The commission will study key issues facing law enforcement and identify ways to combat gun violence.
The new task force will be created by Attorney General William Barr, who stood with the president in Chicago on Monday.
The commission will have no more than a year to submit a report to the president with recommendations.
When he arrived at O'Hare International Airport on Monday, Trump was greeted by President of the Chicago Fraternal Order of Police Kevin Graham. Noticeably absent from the president's arrival were Illinois Gov. J.B. Pritzker and Chicago Mayor Lori Lightfoot.
Speaking in Springfield before Trump's speech, Pritzker said he had the same message for the president that he did during a visit to the White House earlier this year.
"What are you going to do for Illinois?" the governor said.
Pritzker also echoed a sentiment similar to other top lawmakers when it comes to personal opinions about the president.
"I stand foursquare against his racist, xenophobic style of leadership," the governor said. "His rhetoric and his actions that are racist, xenophobic homophobic and misogynistic."
The ACLU of Illinois said Trump's policing strategy won't yield results.
Karen Sheley, director of the ACLU of Illinois' Police Practices Project said the president's "toughness" on crime "has already failed."
"Being tough doesn't build the trust needed in Chicago between police and the communities they serve," she said in a statement. "That trust can only be built by implementing the historic consent decree currently being overseen by a federal judge, a decree that restricts police use of force. The president appears completely oblivious to this decree and the reforms underway here."
Sheley said the ACLU rejected Trump's "misrepresentations about immigrants in our neighborhoods."
During his speech, Trump encouraged local law enforcement to work with U.S. Immigration and Customs Enforcement agents to combat crime.
"We know that when local police departments work with ICE, people are less likely to report crime," Sheley said. "Contrary to the political rhetoric from the President, sanctuary policies make our communities safer."
After his speech, Trump was met by protesters outside of his downtown Chicago hotel, the site of a lunchtime fundraiser.
Illinois Radio Network can be reached at News@WJBC.com.