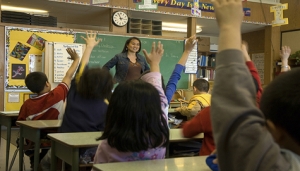 By Howard Packowitz
FARMER CITY – The union representing teachers in Blue Ridge Community Unit District 18 is taking initial steps toward calling a strike.
Teachers in the district serving Farmer City, Mansfield, and Bellflower voted overwhelmingly Sunday night to form a strike exploratory committee because they're not satisfied with the status of contract negotiations, according to a statement released by Blue Ridge Federation of Teachers President Don Anton.
Union members said they were surprised and disappointed with the school board's latest proposal. The two sides have reportedly met for one mediated session, and they're scheduled to meet again September 24.
Anton said in the statement that the exploratory committee will help the union plan how to best execute a strike and support members who would face financial hardships by a walkout.
The union said in a statement that the board seems unwilling to help stop high turnover among Blue Ridge staff.
"Relationships are the cornerstone of a successful school experience for our kids. When students see new staff year in and year out, it is a step back for them. Our schools work much better when kids can form lasting relationships with drivers, cooks, secretaries, teachers, and other staff," Anton said in a statement released late Sunday night.
"It's critical that our kids have a trusted adult they can turn to for help whether they are struggling with homework, dealing with a social or emotional issue or just need someone they know they can count on. We want an agreement that allows us to foster those relationships and provide the high quality education that all kids deserve," Anton said.
Blue Ridge Superintendent Susan Wilson was not immediately available for comment.
Howard Packowitz can be reached at howard.packowitz@cumulus.com