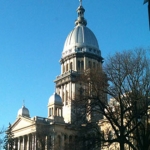 By Dave Dahl
SPRINGFIELD – A portrait of Illinois children shows we have not come very far racially.
Voices for Illinois Children KIDS COUNT project manager Bill Byrnes calls it the continued "legacy of historical racism" and segregation. Statewide poverty figures show 18 percent of children are in poverty, with 38 percent of blacks, 24 percent of Latinx, and ten percent of whites.
Voices for Illinois Children presents the annual KIDS COUNT report, and, in some ways, says project manager Bill Byrnes, we have not come that far racially.
"There is a variety of areas in the state of Illinois that are (still) very racially and ethnically segregated," Byrnes said. "Many of these areas are segregated along race but also along class lines as well, so we are not only concentrating people of color in various areas but also concentrating the socioeconomically disadvantaged in those same type of areas"
Another point: the maternal mortality rate among black women is more than twice that of whites and Asians. Byrnes says obesity and diabetes are represented among blacks more than whites, and the hospitals many black women have access to have poorer morbidity records.
Byrnes, wanting the report to get the attention of state and federal lawmakers, praises the increased minimum wage and advocates changing the tax structure to make it more "fair."
Dave Dahl can be reached at News@wjbc.com.