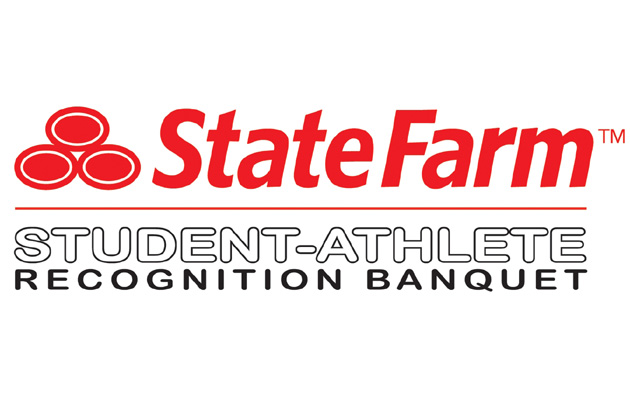 By Greg Halbleib
BLOOMINGTON – Two individual state champions have been named Athletes of the Year during Tuesday night's annual State Farm Student-Athlete Recognition Banquet.
McKenna Schaefbauer of University High School and T.J. Barger of Bloomington earned the top individual awards in the program sponsored by the Bloomington-Normal Sports Commission arm of the Convention and Visitors Bureau. Schaefbauer capped an undefeated season with a state singles championship in tennis, and Barger earned medalist honors in last fall's state golf championships.
Central Catholic girls golf and U-High boys tennis earned Team of the Year awards following their state titles.
Coach of the Year honors went to Courtney Hoffman of Olympia softball and Josh Collins of Heyworth wrestling.
The local selection committee also presented Good Neighbor Awards to Illinois Wesleyan women's basketball coach Mia Smith, former coach and leader of the Michael Collins Foundation Jim Collins and Special Olympics volunteer Roger Bedecker.
The complete list of finalists is below with winners in bold.
Female Team of the Year:
Central Catholic Girls Golf
U-High Girls Tennis
Olympia Softball
Male Team of the Year:
U-High Boys Tennis
Heyworth Wrestling
Bloomington Cross Country
Female Athlete of the Year:
McKenna Schaefbauer, U-High
Dara Kane, Normal West
Lauren Shanks, Central Catholic
Male Athlete of the Year:
T.J. Barger, Bloomington
Logan Deacetis, Prairie Central
Nick Doud, Bloomington
Coach of the Year, Female Sport:
Courtney Hoffman, Olympia Softball
Dean Glesing, Central Catholic Girls Golf
Catherine Sturdyvin, U-High Tennis
Coach of the Year, Male Sport:
Josh Collins, Heyworth Wrestling
Nathan Fincham, Normal West Football
Chris Hawkins, Normal West Baseball
Female Scholar-Athlete of the Year:
Mara Smith, Normal West
Renata Lee, Central Catholic
Macy Rink, Bloomington
Male Scholar-Athlete of the Year:
Thomas Moh, U-High
Seth Jorgensen, Cornerstone Christian
Jordan Walker, Normal West
Special Olympics Female Athlete of the Year:
Aislyn Bossard
Special Olympics Male Athlete of the Year: 
Caleb Busick
Kurt Kinley
Good Neighbor Awards:
Mia Smith
Jim Collins
Roger Bedecker
Sports Director Greg Halbleib can be reached at greg@wjbc.com.