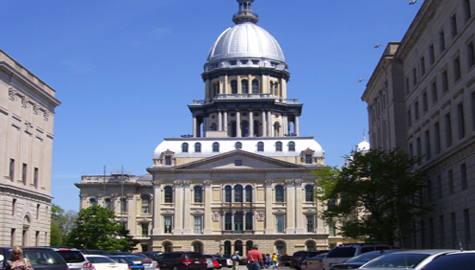 By Dave Dahl
SPRINGFIELD – Direct from Springfield: the Plate to Politics Podcast.
It's a production of the Women Food and Agriculture Network, and it made a stop in Springfield Monday evening. About thirty women watched a taping of the program at a restaurant which closed for the evening for the occasion.
Former Illinois agriculture director Becky Doyle, the first – and only – woman to hold that position, was one of the panelists. "For a woman who is interested in food production, in ag production," Doyle said, "who has a drive to serve humanity through the provision of food – not just quantities of food, but quality of food – the future is bright, because there is a need out there, especially for young people."
Ash Bruxvoort, who coordinates the podcast for the organization, says the podcast is really a sort of leadership seminar. Bruxvoort says WFAN's programs are a success.
"Recently, I was at a Women Caring for the Land workshop, and it was a woman's third time attending, and she a binder that said Women Caring for the Land on it," Bruxvoort said. "She wanted to talk to her siblings about how she was going to maintain her family's farm."
Bruxvoort said the outreach goes beyond agriculture — Plate to Politics is also about encouraging women to run for office.
The Illinois Stewardship Alliance helped host the event.
Dave Dahl can be reached at news@wjbc.com.