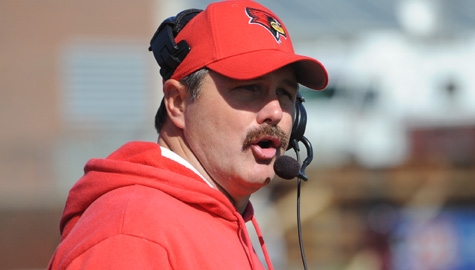 By Illinois State Sports Information
NORMAL – Illinois State racked up over 400 yards on the ground against Southern Illinois, as the No. 12  Redbirds (5-1, 2-1 MVFC) ran away from the Salukis (1-5, 0-3 MVFC) by a score of 51-3 on a sunny afternoon at Hancock Stadium on Homecoming in front of 11,247 fans.
How It Happened:
•    Illinois State scored first on a 12-play, 87-yard drive that was capped off with a James Robinson three-yard touchdown run.
•    Illinois State extended its lead over Southern Illinois, when JT Bohlken netted a 35-yard field goal to make the score 10-0 with 14:25 remaining in the first half.
•    Quarterback Brady Davis then completed a 10-yard touchdown pass to Andrew Edgar with 9:44 to go in the first half to widen the lead over the Salukis to 17-0 … Davis scored again through the air minutes later on a three-yard touchdown pass to Robert Gillum to make it 24-0 in favor of ISU with 7:20 left in the first half.
•    Davis would go to the air one more time before halftime to throw a four-yard touchdown pass to Braxton Haley with 27 seconds remaining in the half, as the Redbirds led 31-0 at the break.
•    Southern Illinois struck first in the second half, after kicker Nico Gualdoni made a 26-yard field goal making the score 31-3 in favor of Illinois State with 8:43 left in the third quarter.
•    Illinois State would get back on the scoreboard courtesy of a 51-yard run from Markel Smith that ballooned the advantage to 38-3 with 4:11 to go in the third quarter.
•    Davis would connect with another receiver through the air, as Spencer Schnell caught a 16-yard touchdown pass with 6:55 remaining in the game to make the score 45-3.
•    Jake Kolbe capped the scoring, as he called his own number with 32 seconds left in the contest from one yard out to put the game final at 51-3.
Game Notes:
•    Illinois State's 409 yards rushing in the contest was the fifth-best single game team effort in school history.
•    The 51 points scored by the Redbirds were their most since scoring 67 points in a September 12, 2015, win over Morgan State.
•    Davis went 10-of-15 for 118 yards with a career-best tying four touchdowns in the contest with his first interception of the season … Davis had attempted 141 passes before his first interception as a Redbird.
•    Robinson rushed for over 100 yards for the fourth time in five games, carrying the ball 25 times for a career-high 202 yards and a touchdown … the last Redbird to rush for over 200 yards was Marshaun Coprich against Western Illinois on December 5, 2015.
•    Robinson also eclipsed 2,000 rushing yards in his career as a Redbird, upping his total to 2,038 good for No. 11 on the ISU career rushing list.
•    Markel Smith rushed 11 times for 143 yards and a touchdown … It marked the second time in two seasons that both Robinson and Smith rushed for over 100 yards in the same game.
•    Zackary Mathews led the Redbird defense in tackles with eight and Matt Swaine added six stops with a sack and 1.5 TFLs.
Up Next:
Illinois State will travel to Fargo to take on North Dakota State next Saturday. Kickoff is set for 2:30 p.m. from the Fargodome, and fans can listen to the game on WJBC AM 1230, 93.7 FM and on the TuneIn app.