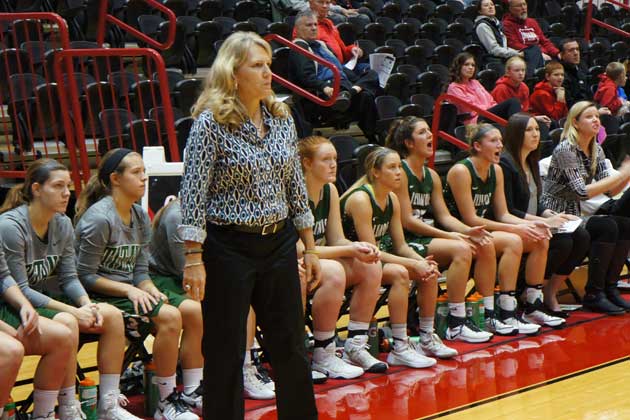 By WJBC Staff
BLOOMINGTON – The Illinois Wesleyan women's basketball team has scheduled preseason exhibition games on the road against Division I Eastern Illinois University and Southern Illinois University-Edwardsville.
Playing teams from the Ohio Valley Conference, the Titans will face the Panthers at 6 p.m. on Thursday, Nov. 1 at Lantz Arena in Charleston, Ill., and will play the Cougars at the Vadalabene Center in Edwardsville on Monday, Nov. 5, at 7 p.m.
Eastern Illinois is coming off a 3-26 season. Senior Grace Lennox, who was redshirted after an injury last year, led the team with a 15.4 scoring average while Taylor Steele scored at a 10.1 clip.
The Cougars were 17-15 last year and lost to Central Arkansas 51-39 in the opening round of the Women's Basketball Invitational. Seniors Jay'Nee Alston and Sydney Bauman are the top returning scorers at 6.7 and 6.2 points per game, respectively. The 6-foot-3 Bauman also led the team with 7.1 rebounds per game.
Illinois Wesleyan finished with an 25-4 overall record, went 15-1 in winning the CCIW regular season and tournament and played in the NCAA Division III tournament for the second straight season.
Illinois Wesleyan head coach Mia Smith, whose 20-year overall record is 389-163, earned her bachelor's and master's degrees in physical education from Southern Illinois-Edwardsville, where she was a four-year letterwinner in basketball and softball. She was the basketball team captain for three seasons and earned "Defensive Player of the Year" honors four times. She was named to the 1983 Dial Classic all-tournament team. A Dean's List student, she was an SIUE "Scholar-Athlete" and the school's "Sportsmanship Award" winner in 1986.
Illinois Wesleyan opens its regular season with a home game against the University of Chicago at 2 p.m. on Sunday, Nov. 11.