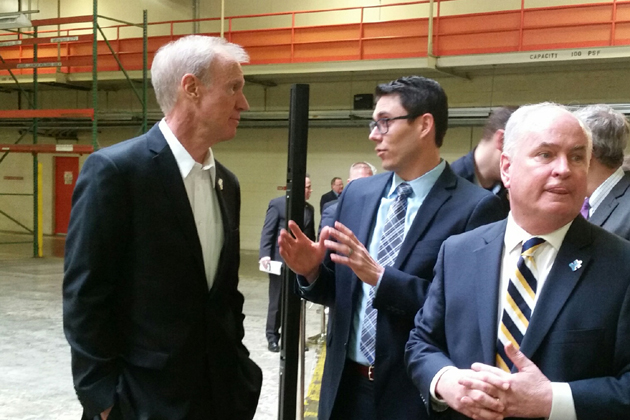 By Howard Packowitz
BLOOMINGTON – Illinois' chief executive said he is cheering for the success of Rivian Automotive, which received state tax credits and other incentives to begin making electric cars at the former Mitsubishi Motors plant in Normal.
Gov. Bruce Rauner made an unannounced phone call to WJBC's Afternoon Report on Wednesday, claiming political opponents are falsely spinning comments he made in recent days suggesting he's disappointed with the progress made so far by the startup firm.
"I love Rivian. We worked hard to recruit 'em," Rauner said.
"We cut a deal with them to give them EDGE (Economic Development for a Growing Economy) tax credits, and I'm all in for them to succeed."
Speaking with WJBC's Sam Wood, the governor said he was trying to point out that manufacturers like Rivian would be doing much better if not for a hostile business environment in the state.
"We took a gamble with Rivian. They're at 40 employees, which is awesome. They hope to add hundreds, and we gave the EDGE credits to do it, but it's frustrating because if we had better competitiveness as a state, we could already have thousands of jobs working in and around that facility," the governor said.
Rivian intends to reveal its plans for a five-passenger pickup truck later this year, and begin making the vehicles in 2020.
Rauner said Illinois is not taking advantage of a booming auto industry that's benefiting other states including neighboring Indiana.
Howard Packowitz can be reached at howard.packowitz@cumulus.com