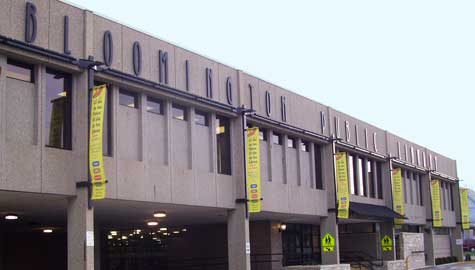 By Howard Packowitz
BLOOMINGTON – The Bloomington City Council favors expanding the public library at its current site on E. Olive St., rather than moving it to the northern part of downtown.
The council voted 6-2 to back the library board's preference to stay at the existing location.
The Downtown Task Force, chaired by Alderman Amelia Buragas, suggested a new library and Connect Transit transfer center might replace the aging Market Street garage as a catalyst project for downtown.
Buragas said the council's vote was premature because there are too many unanswered questions.
"One of the biggest questions we all know we're going to get at the end of the day is, if we expand on site, is that the most fiscally responsible decision?"
"If we don't ask some of these questions about location, and what other options are there, we can't answer that question," Buragas said.
Alderman Scott Black also voted no because he feels replacing the O'Neil Park pool is higher priority.
"The library is a functional building. O'Neil Pool is threatened with not being able to be opened within this year, next year, we are well past our life," said Black.
Alderman Mboka Mwilambwe said it's time to give the library board some closure after years of uncertainty, while Council member Diana Hauman would like to see a single library for Bloomington and Normal.
Howard Packowitz can be reached at howard.packowitz@cumulus.com