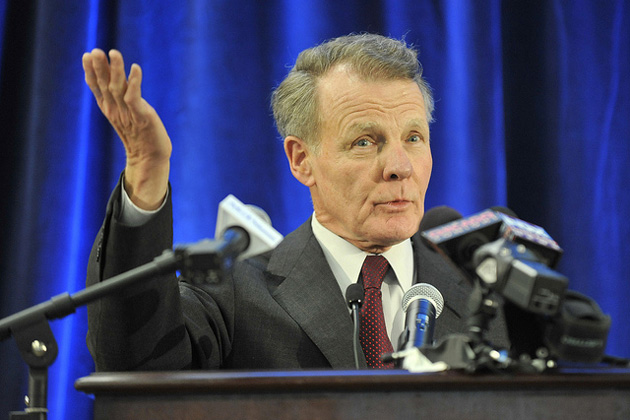 By Greg Bishop/Illinois Radio Network
CHICAGO – A high-ranking member of House Speaker Mike Madigan's political organization has been fired after an investigation into sexual harassment allegations, Madigan said Monday.
Kevin Quinn, who's worked with Madigan's political committees for nearly 20 years and previously worked in the House speaker's state government office, was let go for engaging in "inappropriate conduct."
"In November, a courageous woman made me aware that a high-ranking individual within my political operation had previously made unwanted advances and sent her inappropriate text messages," Madigan said in a prepared statement. "I immediately consulted with my attorney, Heather Wier Vaught, and directed her to conduct a thorough investigation. Ms. Wier Vaught conducted numerous interviews, reviewed the evidence, and recently came to the conclusion that the individual engaged in inappropriate conduct and failed to exercise the professional judgment I expect of those affiliated with my political organizations and the Office of the Speaker."
Quinn also pleaded guilty recently to a misdemeanor disorderly conduct charge, according to the statement. He is the brother of 13th Ward Chicago Alderman Marty Quinn, one of Madigan's top political lieutenants.
"Based on the culmination of events, Alderman Marty Quinn and I decided that Kevin should no longer be affiliated with the political organization," Madigan said in the statement.
Madigan's office said this is the only allegation of harassment made against Kevin Quinn.
Following her investigation, Wier Vaught "made several recommendations aimed at preventing inappropriate behavior and improving methods for reporting and responding to such allegations," Madigan said. "My political committees are actively taking steps to implement those recommendations."
State Rep. Grant Wehrli, R-Naperville, said we wouldn't have heard about this if it weren't for more awareness on the issue.
"So I encourage anyone to step forward if they have serious allegations such as this that are founded," Wehrli said.
Wehrli also said with the four decades Madigan has been in power, he wouldn't be surprised if there were more skeletons in closets that may never come out.
"Are there probably examples in the past of things like this in Speaker Madigan's history, absolutely," Wehrli said. "Will they ever see the light of day? I don't know. The man is a master of keeping things under wraps."
"One just has to wonder if this is why we didn't have a legislative inspector general for three-plus years under Speaker Madigan and [Deputy Majority Leader] Lou Lang," Wehrli said. "They simply didn't want things like this investigated and this could be an example as to why."
Republicans on the commission said they brought names forward in the three years there was a vacancy, but Democrats scoffed. When asked about the vacancy and the Republican nominations last November, Lang said he wasn't "at liberty to talk about the inner workings of the commission."
The revelation of the vacancy of the LIG post revealed more than two dozen allegations that sat uninvestigated at the legislative ethics commission.
Wehrli said the timing of Monday's release from Madigan is interesting.
"I give Speaker Madigan credit for knowing how to massage the media," Wehrli said. "Here it is a Monday, it's a state holiday [with Lincoln's birthday], on Wednesday the governor's going to give his budget address so this story will probably be buried."