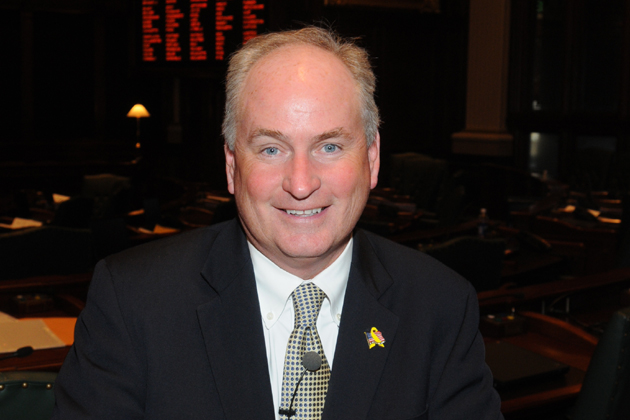 By Eric Stock, Howard Packowitz, and Illinois Radio Network
SPRINGFIELD – Governor Rauner plans to keep lawmakers in session until they agree on a budget. The Republican chief executive issued a statement Wednesday afternoon saying, "if the legislature fails to send a balanced budget package to my desk by Friday, we will have no choice but to keep them in session until they get the job done."
Legislators have just three more days of a special session to pass a budget for entering a third consecutive fiscal year without a complete spending plan.
State Rep. Dan Brady, R-Bloomington, told WJBC's Scott laughlin and Patti Penn House Speaker Mike Madigan has undermined progress that negotiators have made toward a budget solution, by unveiling his own plan in the final days of the session. He has a message for Madigan and Rauner.
PODCAST: Listen to Scott and Patti's interview with Brady on WJBC.
"I'd like to say to both of them 'Just sit on the sidellines because there's key people that can get it done,' " Brady said.
Madigan said the Democrat's proposed spending plan is balanced. Minority Leader Jim Durkin said has yet to be seen because House Democrats have yet to introduce a tax increase.
House Democrats introduced their spending plan Tuesday, less than four days before the start of a new fiscal year. House Minority Leader Jim Durkin said the plan has plenty of uncertainties.
The $36.5 billion budget bill proposed by the House spends about half a billion dollars more than Republican leaders' plan and will rely on at least $5 billion in tax increases, as both Republicans' and Senate Democrats plans do.
In discussing details of the newly filed measure, Speaker Michael Madigan acknowledged it isn't perfect.
"But I think it goes a long way into getting the state of Illinois in a good solid spending plan that responds to the real needs of the state, the real needs of the people of this state, and significantly is below the level of the governor's introduced budget [of $37.3 billion]," Madigan said.
Before the special session began last week, Republicans introducing a plan that capped spending at $36 billion. Last month, Senate Democrats passed a $37.3 billion budget that was never called to the House floor. All three plans rely on at least $5 billion in tax increases, including income and corporate tax hikes. The state is expected to spend about $39 billion during the fiscal year that ends Friday on revenue of about $31 billion, an $8 billion deficit.
Democratic state Rep. Greg Harris, D-Chicago, said the House plan for fiscal 2018 includes a surplus that is "teeny tiny."
Harris also said the latest appropriations bill proposes cutting spending by about 5 percent from a number of state agencies. He said it fully funds the state's pension obligations and group health care costs. It provides $350 million in additional funding to K-12 schools, and restores half of the Senate's proposed 10 percent cut to higher education. It also provides for pay increases for direct care workers employed by human service providers.
The measure does not provide a plan to pay off the state's $15 billion bill backlog. Harris said a separate bill is coming that seeks to borrow to pay down past due bills.
Minority Leader Durkin said whether the House Democrats' spending plan is balanced has yet to be determined because it's still unclear what tax hikes they support.
"Scott Harry, the … governor's budget director, said without a [budget implementation bill] and also the Democrats' tax increase, we are not able to come to any conclusion, nor will we be able to come to a conclusion whether or not this is a balanced budget," Durkin said.
Harris said the House Democrats' revenue plan would be similar to Senate Democrats', which calls for a 32 percent income tax hike and a 33 percent corporate tax increase. A family with annual income of $60,000 would pay the state an additional $720 a year under the income tax hike proposals, with their tax bills spiking from $2,250 to $2,970.
Harris said House Democrats also support eliminating some corporate tax loopholes.
Madigan still is demanding the governor sign Senate Bill 1, the Democrats school funding reform measure that Republicans said is a Chicago bailout.
"Any new demands from the speaker over-complicates closure to this process and it clearly hampers my ability to provide votes for a budget resolution," Durkin said, indicating that an agreed-upon budget deal is far from final.
Eric Stock can be reached at eric.stock@cumulus.com.