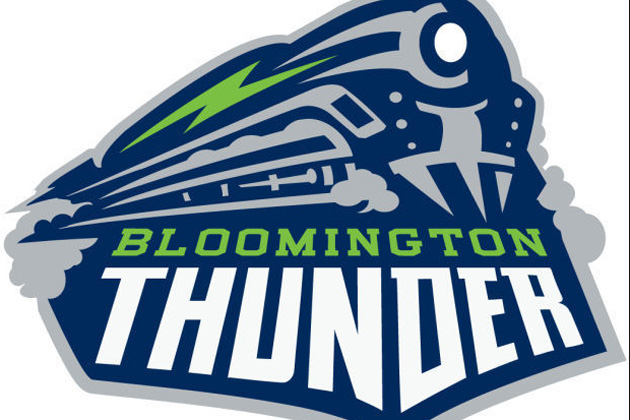 By WJBC Staff
BLOOMINGTON – The Bloomington Thunder will have a new head coach and general manager for their fourth season in the USHL, but it will be two familiar faces serving in those positions.
Mike Watt, an assistant coach for the Thunder for the last two seasons, has been appointed the second head coach in team history, and Dan Jewell, a key part of Bloomington's coaching staff since the team's inception in 2014, has been named General Manager of Hockey Operations and Associate Coach.
Watt and Jewell will take over for Dennis Williams, who was the Head Coach and GM in the Thunder's first three seasons in the USHL. Williams has been tabbed as the next head coach of the Western Hockey League's Everett Silvertips, which are also owned by CSH International, the ownership group of the Thunder.
A standout forward at Michigan State University from 1994-97, Watt played three seasons under the highly-esteemed Ron Mason. During his collegiate career with the Spartans, he posted 98 points in 115 games, including 39 points during his sophomore season in 1995-96, which was good for second on the team. That same season Watt shone on the international stage, winning a gold medal while competing for Canada at the World Junior Championship.
"I'd like to thank Mr. Yuill and CSH International for the opportunity," Watt said. "Having that continuity within CSH International and our organization is huge for the players and their families and their advisors. They know that we've had a relationship and we've developed those relationships. We've worked on and off the ice and in the community. They know the expectations and they know the culture that we've set here."
Watt also brings 10 years of professional playing experience to his position with the Thunder. The Seaforth, Ontario, native was drafted in the second round of the 1994 NHL Draft by the Edmonton Oilers with the 32nd overall pick. He played five seasons in the NHL, totaling 41 career points in 157 games played. Watt also played professionally in the KHL and SHL, the highest level of hockey in Russia and Sweden, respectively.
Upon the conclusion of his playing career, Watt transitioned into coaching, spending four seasons coaching high school hockey in Wisconsin before making the jump to junior hockey. Like Williams, Watt began his coaching career at the junior hockey level with the Amarillo Bulls of the North American Hockey League (NAHL). After just one season with the Bulls, Watt was promoted to his position as an assistant coach with the Thunder.
While with Bloomington, Watt has overseen the team's defenseman and has helped develop several notable rear guards. In the 2015-16 season, Watt mentored one of the best defensive corps in the USHL, which included New Jersey Devils draft pick Jeremy Davies and Brogan Rafferty. Davies more than doubled his career-high and led USHL defenseman with his 49 points during the regular season on the way to being named All-USHL First Team. In his first and only season in the USHL in 2015-16, Rafferty finished with 28 points. He then posted nine points in 10 playoff games to lead all Thunder defensemen. During the 2016-17 season, Davies and Rafferty both registered more than 20 points in their freshman campaigns at Northeastern University and Quinnipiac University, respectively.
This past season, Watt played a key role in Wyatt Kalynuk's breakout campaign. Kalynuk finished seventh among league defenseman with a career-high 31 points on six goals and 25 assists. He became one of the most dynamic two-way defenseman in the league and led USHL blue liners with his 159 shots on goal, more than double his previous career high.
Watt currently resides in Bloomington with his wife, Niki, and two children, Liam (13) and Avery (9).
"We've invested in the community," Watt added. "We've bought a house. We love the Bloomington-Normal area and being back in the Midwest. To have this opportunity and know that the Bloomington Thunder are moving forward long-term is very exciting for myself and my family."
Moving into his fourth season with the Thunder, Jewell will now direct all the Thunder's personnel efforts as the General Manager as well as continuing to help mold the future stars of Division I college hockey and the NHL as Associate Coach. He will oversee all aspects of drafting future players, including scouting, recruiting, and managing the Thunder's USHL Draft each May.
"I couldn't be more excited about the opportunity." Jewell said. "It's been quite a progression for me coming into this league and working for a premier organization in the USHL.
"To see my role gradually grow over the three years of the program has been amazing," he continued. "I was fortunate enough to work for and with Dennis Williams for the past three years. Now to take over as General Manager and Associate Coach is an opportunity that's very exciting and thrilling and challenging and everything I could've asked for coming out to Bloomington."
A native of Medford, New York, Jewell has been on the fast track to success in his coaching career. After one season as an assistant coach at SUNY-Plattsburgh and two seasons at Hamilton College, Jewell joined the Thunder for their inaugural season in 2014-15 as an assistant coach and Director of Scouting. He served in that role for two seasons before being promoted to Assistant GM and Director of Scouting prior to the 2016-17 season.
In only three seasons with the Thunder, Jewell has helped orchestrate a development effort that has already seen 25 players from the team's first two seasons go on to play college hockey at the Division I level. This past season, Bloomington had 21 players on its final roster committed to play at the Division I level.
Outside of developing college-ready players, Jewell has also helped the Thunder draft potential NHL prospects. This past season alone, three players on the Thunder's affiliate list were ranked on NHL Central Scouting's Final Rankings: Nicky Leivermann, Bram Scheerer, and Skyler Brind'Amour. Former Thunder defenseman Ben Mirageas was also on NHL CSS's Final Rankings, another player that Jewell helped bring to Bloomington.
Jewell has also been key in drafting other rising stars. This past summer, the Thunder had three players compete at the U17 Five Nations Tournament, which included Bloomington native Brady Smith, Calen Kiefiuk and Jeremy Davidson. The Thunder had more representatives at the U17 Five Nations tournament than any other USHL team.
In his time at Hamilton College, Jewell had several notable accomplishments in helping to build that program, as well. He was responsible for recruiting goaltender Evan Buitenhuis, who won the Division III National Player of the Year award this past season. This past season also saw Hamilton make its first-ever NCAA tournament appearance, with Jewell's two seasons of recruiting playing a role in helping the Continentals make history.
Both Watt and Jewell will start their new positions with the Thunder effective immediately.