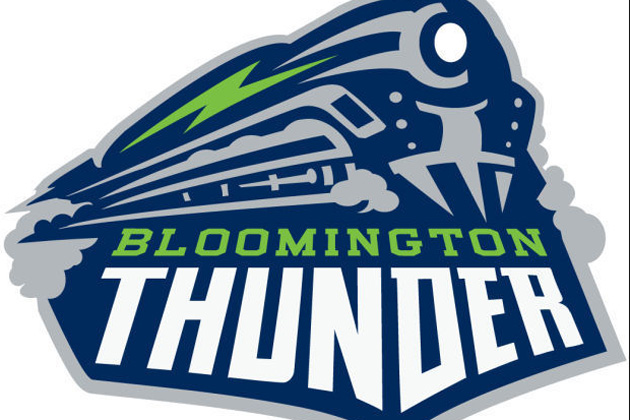 By WJBC Staff
BLOOMINGTON – The Bloomington Thunder completed Phase I of the 2017 USHL Draft on Monday, drafting 10 total prospects, including Jake Braccini with the sixth overall pick.
"It was a very successful draft. I thought [Assistant General Manager] Dan Jewell did a really good job of orchestrating it and preparing for it," Thunder Coach and General Manager Dennis Williams said. "I thought our scouts did a fantastic job of doing our homework on the players that were drafted. We're really excited about the group as a whole.
"Going into our fourth year, each and every year our Phase I Draft is becoming stronger and stronger. A lot of high-end hockey players will be playing for the Bloomington Thunder in a short amount of time and then we'll be getting them prepared to go off to college."
Bloomington selected eight forwards and two defenseman, while four of the 10 draft choices are Division I college commits. Second-round selection Jake Boltmann (University of Minnesota), third-round choice Nick Capone (University of Maine), fourth-round pick Ilya Usau (University of Connecticut), and fifth-round selection Lynden Breen (Maine) are the four draft picks already committed to play Division I hockey.
"You have a plan of which way you want to go and sometimes the draft dictates it a little bit. I thought overall it was a pretty smooth draft. The players we selected, all 10 of them were very high on our list. When we came to those selections, we were very excited to have them. It was a great mix of skill, size, strength and speed. I'm really looking forward to seeing these guys at camp and get them going into next season."
Round 1 | 6th Overall | Jake Braccini
Last team: Buffalo (MN) 14UAA
At a glance: A Buffalo, Minnesota, native, Braccini posted 140 points on 78 goals and 62 assists for Buffalo Bantam AA during the 2016-17 season. Braccini's father, Bryan, played in the USHL for the Des Moines Buccaneers.
Thunder Assistant Coach/GM Dan Jewell on Braccini: "Jake has potential to be a high-end player and a potential NHL draft pick. He has elite tools and a ton of upside considering he played bantam last year. He's a very exciting player and his progress through the season was dramatic."
Round 2 | 22nd Overall | Jake Boltmann
Last team: Edina High School (MN)
At a glance: In his first year with Edina High School, the defenseman had 13 points (3 G, 10 A) in 25 games. Boltmann is committed to the University of Minnesota and stands at 6-foot-2 and 153 pounds.
Jewell on Boltmann: "Jake is a big time right shot defenseman and another player with legitimate NHL upside. He excelled this year at Edina and also at the 40-man camp. We expect him to be a big time two-way defender."
Round 3 | 38th Overall | Nick Capone
Last team: East Haven High School (CT)
At a glance: Capone is a native of East Haven, Connecticut and spent the 2016-17 season with East Haven High School. A 6-foot-2, 195-pound forward, Capone is committed to Maine.
Jewell on Capone: "Nick Capone is a big power forward with great touch and finish ability around the net. He's strong, physical, decisive in his plays, and a guy who can score as well."
Round 4 | 54th Overall | Ilya Usau
Last team: Colorado Evolution Elite HA 15U
At a glance: A University of Connecticut commit, Usau had 60 points in 21 games for Colorado Evolution this past season. Usau is 6-foot-1 and 183 pounds.
Jewell on Usau: "Ilya is a goal scorer plain and simple. He knows how to shoot the puck. He gets his spots in open space and he can let it fly. He reminds me of a very successful Russian player we had here in Vlad Dzhioshvili."
Round 5 | 70th Overall | Lynden Breen
Last team: New Hampton PS Huskies
At a glance: A native of Grand Bay-Westfield, New Brunswick, Breen is a 5-foot-9, 155-pound center. Breen had 49 points (22 G, 27 A) in 34 games for New Hampton School in the 2016-17.
Jewell on Breen: "Lynden is an absolutely big time center. He has a lot of speed, pace, intensity and great offensively ability. He brings the energy and tempo and ability to make a dynamic impact on both sides of the puck, especially offensively.
Round 6 | 86th Overall | Gabe Malek
Last team: Philadelphia Jr. Flyers 16U
At a glance: A Wallingford, Pennsylvania, native, Malek put up 21 points in 23 games for the Jr. Flyers this past season. The center stands at 5-foot-11, 186 pounds and is a right-handed shot.
Jewell on Malek: "Gabe is an offensive player. He's a producer. He's conscious on both sides, but he's a player maker. On a team that didn't have a lot of team success, he was able to overcome that and be an impact in almost every game we saw this year."
Round 7 | 102nd Overall | Rhett Pitlick
Last team: Chaska High School
At a glance: Pitlick registered 22 points in 23 games in his freshman season with Chaska High School this past season. Pitlick's older brother Rem won the 2016 USHL Player of the Year award after posting 89 points in the 2015-16 season with the Muskegon Lumberjacks.
Jewell on Pitlick: "Rhett Pitlick obviously has a great pedigree considering how dynamic his brother Rem was in the league. We see the same type of upside with him. He has a compact frame with a lot of pace and a lot of jam. He's a big time contributor shift in and shift out on the offensive side of the puck."
Round 8 | 118th Overall | Garrett WrightLast team: Phoenix Jr. Coyotes 15U
At a glance: A 6-foot-1, 167-pound forward, Wright tabbed 23 points in 25 games for the Phoenix Jr. Coyotes this past season. Wright is a native of Mesa, Arizona.
Jewell on Wright: "We see Garrett as a big center who can contribute in all ways. He's obviously a leader. You can tell that in the way he plays. With his dad being a great player at Michigan Tech, we see the same type of trajectory for him."
Round 9 | 134th Overall | Luc Laylin
Last team: St. Michael/Albertville High School
At a glance: In 25 games with St. Michael/Albertville High School, Laylin put up 23 points on five goals and 18 assists. A native of St. Michael, Minnesota, Laylin is a forward that measures 5-foot-5 and 136 pounds.
Jewell on Laylin: "Luc is a high-end center with a high hockey IQ. He's a guy who could really take a major step here anytime. We expect it here leading into next year. He's a very dynamic two-way center."
Round 10 | 150th Overall | Jake Flynn
Last team: Boston Bandits 16U
At a glance: The second defenseman drafted in Phase I by the Thunder, Flynn is a native of Milton, Massachusetts and played 19 games for the Boston Jr. Bandits.
Jewell on Flynn: "Jake is a great defender playing at a good school in Thayer Academy under Tony Amonte, an ex-NHL player. We expect him to take a big step next year. He was a big factor on one of the best teams in prep school hockey last year."
The USHL Draft continues on Tuesday morning at 8 a.m. with Phase II.