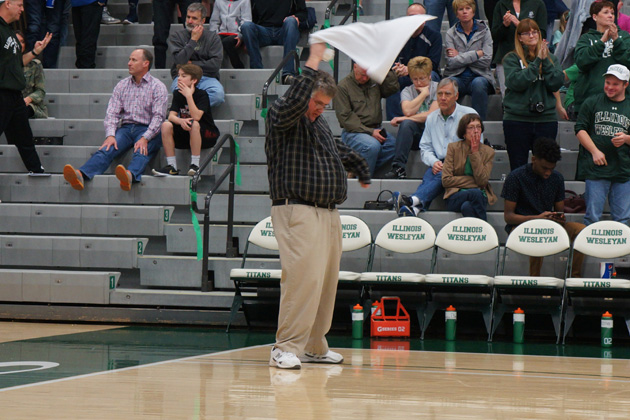 By Eric Stock
BLOOMINGTON – Matt Adams said he got the nickname from a classmate at Bloomington High School for his quickness.
While he detected sarcasm in that moniker, the nickname "cat" stuck.
He might not be as quick as his name implies but he's sharp as a tack.
Illinois Wesleyan athletic director Mike Wagner said Adams' steel trap has bailed him out more than once.
"He knows every single one of the (official's) names, and sometimes, to be honest, if I forget somebody I just ask Matt and he knows who they are," Wagner admitted.
The fan/volunteer/assistant coach/bat boy who is known for waving a towel at local sporting events will be the guest of honor at tonight's Illinois Wesleyan basketball game at Shirk Center. IWU will hand out 1,000 towels with the 'Cat's' likeness on it, while local high school students get in for $1 because of all Matt's work with local schools.
"I like it a lot," Adams quipped. "Not too many people can get their own picture on a towel."
The 'Cat' said his towel-waving to inspire the home team to victory is all business.
"I like winning, I'm not a loser, I love to win," Adams declared.
When it comes to dealing with officials and visiting teams, a role he is often seen handling at Shirk Center, the 'Cat' said he lives by the Golden Rule.
"I try to treat them with respect," Adams said. "I try to treat them the way they'd like to be treated."
The 1984 BHS grad doesn't plan to give it up any time soon.
"I told the president of the university, I'm not going to tell him how many years I've been doing this because I don't' want him to say 'It's about time you retire,' " Adams said.
Eric Stock can be reached at eric.stock@cumulus.com.