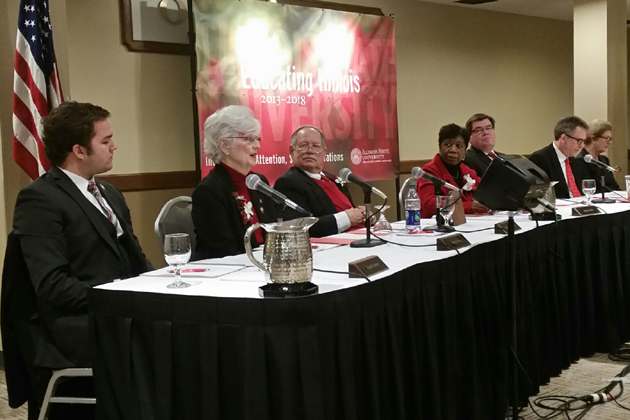 By Adam Studzinski
NORMAL – The Illinois State University Board of Trustees is set to begin a new era after saying goodbye Friday to a combined 35 years of board experience.
Board chairman Rocky Donahue said it'll be hard to replace Jay D. Bergman, Anne Davis and Betty Kinser. All three have expiring terms and have chosen not to return to the board.
Bergman, who's served as a trustee since 2003, is the longest serving trustee in ISU's history.
"We've gone from being another Northern and Southern to being a Missouri, University of Illinois, University of Iowa type university," said Bergman. "Our graduation rate is wonderful. Our retention rate is great."
Kinser is the only trustee to have been a full time Illinois State employee before being on the board. She explained while she will miss serving, she's not going to be far away.
"I plan on attending all the activities, galleries; I do that, I'm gonna keep on doing that, because I love ISU," Kinser said.
Davis said she's proud of the fact they've always been able to work as a team.
"It was not any one of us making the decisions," said Davis,. "Even though we may have had differences, we were able to work through those differences and come up with a unified decision in terms of a university and it's bode well."
Donahue said Friday's meeting was "bitter sweet."
"But it's also a fact. These aren't lifetime appointments. We're all faced with this day," said Donahue. "While they're leaving, I am truly looking forward to meeting whoever these new trustees will be and seeing the energy, and the passion, and the ideas they bring."
Gov. Bruce Rauner will appoint replacements, but it's not clear when that will happen.
Adam Studzinski can be reached at adam.studzinski@cumulus.com.