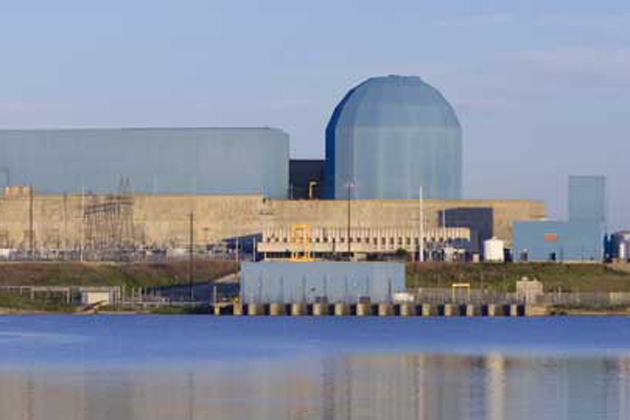 By Eric Stock
CLINTON – Energy company Exelon delivered on a promise that it had been making for years, that two of its most productive nuclear plants, would close if lawmakers didn't create what company officials considered a level playing field with other forms of so-called clean energy. It was a last-minute deal in Springfield that prevented the plant and its hundreds of jobs from going away entirely as WJBC reports in one of its top stories of 2016.
Exelon officials made clear what they needed to keep their plants running in Clinton and Cordova in the Quad Cities after reporting those two plants lost $800 million in the last seven years.
"Publicly traded companies just can't afford to take those types of losses year in and year out," Clinton plant spokesman Brett Nauman said. "We are looking at losing another $140 million next year."
Those initial requests fell on deaf ears in Springfield as lawmakers were caught in a quarrel over the state budget. Local lawmakers though, including State Representative Bill Mitchell (R-Forsyth) kept a laser focus.
"If you remove nuclear power "you are going to see your electric bills go sky high," Mitchell declared.
The spring legislative session came and went with no plan for Exelon. Soon after, Exelon starting picking up stakes and transferring workers.
"It's a very sad day here at the (Clinton) power station,"Nauman said. "Me and 700 employees did not want to see this happen and it has happened. We're not handling it great."
The DeWitt County community of 7,000 people braced for the loss of its largest economic provider.
"Those jobs don't exist anywhere else in DeWitt County," one local official said. "They are going to go where they can find those jobs. It's going to create a huge snowball effect."
Then in early December, lawmakers threw the energy company a lifeline, $235 million a year in subsidies. The bill also provides rate increase protections.
"This bill gives us a chance, a chance to protect jobs in Illinois, to grow jobs in Illinois," State Sen. Chapin Rose (R-Mahomet) said. "It gives us a chance to protect consumers and ratepayers."
But the plan to boost nuclear energy at the expense of its competitors wasn't cheered by all. State Sen. Kyle McCarter said lawmakers shouldn't manipulate the market with legislation.
"We have a free market power generation system that has worked and bill work if we allow it to continue to work," McCarter said. "Let's not pick winners and losers."
Gov. Bruce Rauner came to Clinton to sign the bill.
"We are blessed here in Clinton, we are blessed in the Quad Cities, we are blessed all around the state of Illinois to have hard working men and women who care about doing their utmost everyday to provide for their families and have a better future for their children," Rauner said.
The measure guarantees Exelon will keep the nuclear plants open for 10 more years.
Eric Stock can be reached at eric.stock@cumulus.com.