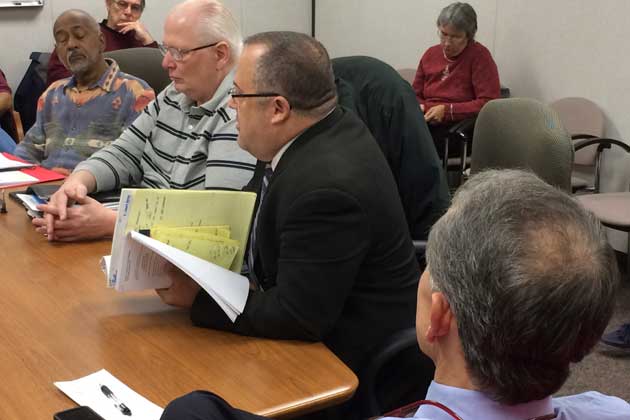 By Eric Stock
BLOOMINGTON – Bloomington mayor Tari Renner has survived the first of two legal challenges to his nominating petitions in his re-election bid.
The city's election commission on Friday announced it upheld nearly 200 objections to signatures Renner submitted, which is still more than the minimum required to be on the ballot.
Objector Kevin Gerrard of Bloomington had claimed close to 360 signatures were invalid, but said he accepts the findings.
"It is what it is," Gerrard said during the brief hearing at the Government Center in Bloomington on Friday morning.
"It is what it is is silliness,'" Renner attorney Joe Dunn retorted. "The whole reason we are here is insane."
The commission's examination team spent much of Wednesday reviewing the contested signatures with representatives of Renner and Gerrard present.
The examination team overruled 158 of Gerrard's objections. Of those, Gerrard made no objection to 87 of the examination's team decisions and made objections to 71.
The BEC said of the 199 sustained objections, Renner made 138 objections to the review's findings.
The commission determined Renner had 581 valid signatures, more than the 489 required minimum.
Gerrard said there's still a lesson candidates should learn.
"I think the message we should get out of this is that people should, in the future, be a little more aware of what they are doing when they are filling out petitions,"
Gerrard added the fact that he objected without an attorney prevented him from making claims that Renner's petitions showed patterns of inconsistencies.
Renner suggested after the meeting the objector should cover the cost of the review.
"There's nothing in the law the says the objectioner has a duty to pay," Gerrard said. "I pay for their salaries through my taxes."
According to the BEC, Renner submitted 785 signatures. The examination team did not review the final two lines on Renner's 63rd petition sheet because the examination would have exceeded the maximum number of 783 signatures.
Renner faces another challenge on Monday, along with alderman Joni Painter and alderman candidate J. Alan Balmer. Those objections were filed by Bruce Meeks, who challenge to mayoral candidate Diana Hauman's petitions was struck down on Thursday.
Eric Stock can be reached at [email protected].