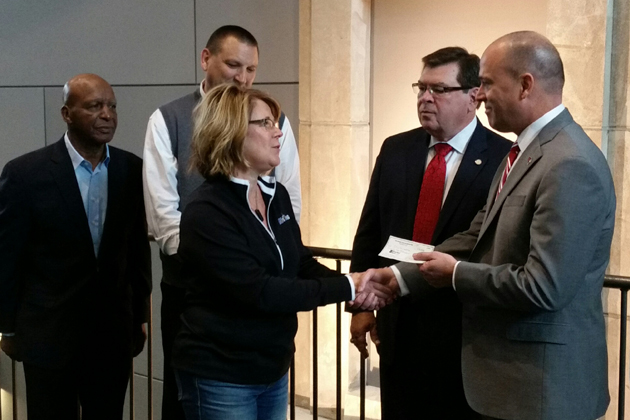 By Adam Studzinski
NORMAL – The Michael Collins Foundation has created the first ever endowed scholarship for Illinois State University Exercise Science majors.
Collins was an exercise science major at ISU before being killed by a drunk driver in 2014. His parents, Jim and Kelly Collins, presented a $25,000 check to Illinois State Friday to officially create the scholarship.
"He (Michael Collins) loved being a Redbird. He loved the two years that he spent here," said Jim Collins. "We knew that we wanted to do something with Illinois State at some point and we're just thankful that we could get to a point with the foundation, and all the work that we've done, to be able to give an endowed scholarship."
Kelly Collins added her son took his studies seriously at ISU.
"One of the things that our foundation strives for is to put love in action and this is just one more example of that," she said.
Illinois State President Larry Dietz said this scholarship is in part recognition of the generosity of the Collins family.
"I think it's also a recognition of the quality of the academic program and the fondness people that people have here of this institution," Dietz said.
The scholarship will be available to juniors and seniors.
Adam Studzinski can be reached at [email protected].