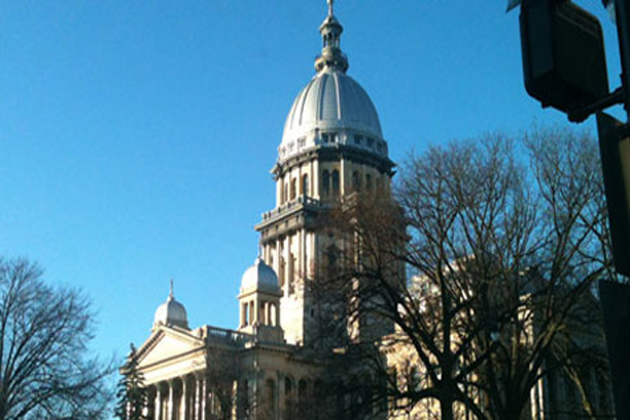 By Cole Lauterbach/Illinois Radio Network
SPRINGFIELD – Illinois lawmakers are among the highest paid in the country and the highest paid in the Midwest.
A new report by the Illinois Policy Institute shows the full cost Illinois taxpayers are shouldering in pay and benefits for their lawmakers. The base pay for state lawmakers is nearly $68,000. This ranks the state behind only California, New York, Pennsylvania and Michigan, but add on bonuses for leadership, health care plans and lifetime pension benefits, and taxpayers are responsible for more than $32 million per year. Illinois' median household income is $57,444.
Illinois lawmakers' pay is noticeably higher than neighboring states. According to the National Conference of State Legislatures said Indiana and Iowa lawmakers make $24,140 and $25,000 respectively. Wisconsin legislators get $50,950.
When you factor in salary, plus the cost of benefits such as health care and pensions, State Rep. Keith Sommer costs $109,684; Sen. Jason Barickman $107,758; Rep. Dan Brady costs $116,951 and Bill Brady $119,974. All participate in the pension system.
State Rep. Dave McSweeney (R-Dist. 52) said lawmakers don't deserve half of what they get. "The General Assembly has not done the job that the people of the state of Illinois have elected them to do," McSweeney said. "We've not only kicked the can down the road; we've kicked the can into orbit."
McSweeney has introduced bills that would cut lawmaker pay, as well as abolish lawmaker pensions.
The General Assembly Retirement System, or GARS, is Illinois lawmakers' pension plan. It is also Illinois' most poorly funded pension system, with 16 percent of funding paying for its future bills. Illinoisans pay $2 million annually into the system while lawmakers on average pay $127,000 into their pensions over the course of their legislative tenures. Most will make that back in a couple of years.
The highest-paid lawmakers are House Speaker Michael Madigan (D-Dist. 22), Senate Majority Leader John Cullerton (D-Dist. 6), and their Republican counterparts, respectively: Jim Durkin (R-Dist. 82) and Christine Radogno (R-Dist. 41). All are paid $95,000 annually.
The Illinois Radio Network is an independent project of the Illinois Policy Institute.