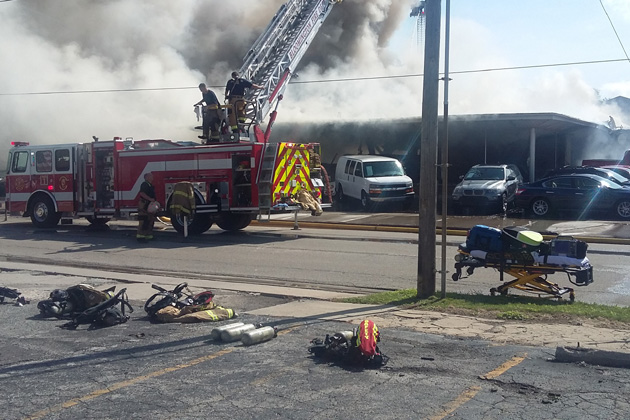 By Eric Stock
BLOOMINGTON – Fire crews battled intense heat and flames for hours as they knocked down a heavy fire that caused substantial damage to Bentley Motors in south Bloomington on Saturday.
The Bloomington Fire Department was called to the auto sales business at 1508 S. Main St. shortly before 7 a.m. Plumes of smoke billowed out of the car dealership building and could be seen for miles.
"They are huge. They are like bigger than you could ever imagine," witness Lori Carroll said.
The fire was declared under control at 12:58 p.m.
Witnesses report the blaze appears to be confined to the building. Bloomington Fire Department spokesman Stuart Blade said the body shop behind the business was largely spared much of the damage.
"The tallest portion has no damage," Blade said. "Going in, you can see the closer you get to the west side there is damage, but the back is not damaged."
No damage estimate is available.
Blade said the fire department had been called to Bentley Motors for an electrical fire several hours earlier.
"Fire crews were called to the scene last night around 11:30," Blade said. "They did find a fire. They determined the case. They had an investigator out."
In that fire, crews  found light smoke coming from the roof. The fire was found in the attic and was extinguished. Some vehicles were removed from the area while crews battled the scene. The business was turned back over to employees at about 2 a.m.
Blade said it's too early to determine whether the two fires are related as the cause of the second fire remains under investigation with assistance from the Illinois State Fire Marshall's Office.
Bloomington Police diverted traffic off of South Main Street with barricades set up at Lafayette Street throughout the day.
Two Bloomington Fire Department personnel were hospitalized with minor injuries.
An animal shelter to the east of the building was evacuated of all animals but there are no reports of injuries or property damage.
Bloomington Fire was assisted by Bloomington Township, Dale Township, Downs, LeRoy, Normal and Towanda.
The department issued a thank you to people who donated ice, water, food and shelter from the heat while crews worked.
Eric Stock can be reached at eric.stock@cumulus.com.